NCHH Ranks Leading Green Building Programs on Health
Media Contact: Phillip Dodge
WASHINGTON, DC (September 10, 2008) — The National Center for Healthy Housing (NCHH) recently introduced the results of a new report, How Healthy Are National Green Building Programs?
The report ranks the leading national green building programs on how they address conditions known to affect health status, such as asthma and respiratory disease, unintentional injuries, and toxic agents.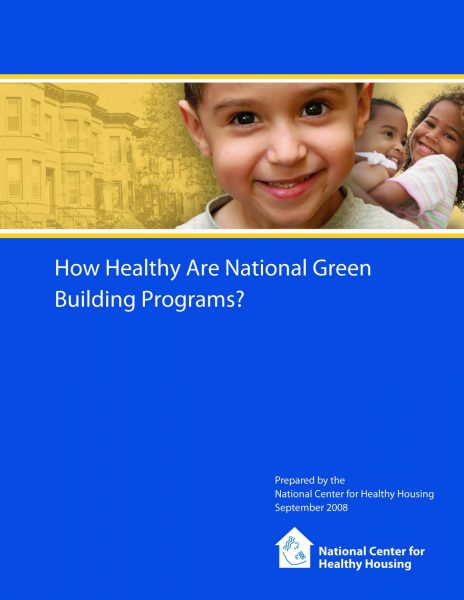 "When it comes to occupant health, not all of the national green building programs are created equal," said Rebecca Morley, executive director of the National Center for Healthy Housing and one of the report authors. "Through our analysis of the leading programs, we found significant variation in the programs' consideration of occupant health. By issuing this report and suggesting ways to strengthen occupant health criteria for green building programs, we are hoping to elevate the importance of delivering safe and healthy homes, which should be equal to creating energy efficient and sustainable homes."
The results show that while all the programs have elements aimed at improving resident health, some important protections have been omitted. For example, injury prevention is excluded from all of the guidelines, despite the fact that unintentional injuries in the home are one of the leading causes of death among young children in the U.S.
The national affordable housing nonprofit Enterprise Community Partners' Green Communities Program ranked the highest along with the U.S. Environmental Protection Agency's (EPA) Energy Star with Indoor Air Package. The National Association of Home Builders (NAHB), which boasts the most "flexible" program, ranked the lowest.
The report is an update of a 2006 analysis. Since that time, many of the green building programs have enhanced the public health criteria in their programs. For example, EPA has included a nonsmoking criterion in its program. Enterprise Community Partners expanded its radon mitigation requirements to cover a broader swath of high-risk areas. The U.S. Green Building Council has increased the number of mandatory elements related to health in its program.
In a national survey by Robert Charles Lesser and Company (RCLCO), 41% of respondents reported that they cared about and were willing to spend time and money on green homes to benefit their health and wellness, even if they couldn't recoup their investment. This is compared with 18% of homebuyers who would buy a green home for energy savings and 24% who would buy such a home to benefit the environment.