National Healthy Homes Month 2021
June is National Healthy Homes Month (NHHM), created by the U.S. Department of Housing and Urban Development's (HUD) Office of Lead Hazard Control and Healthy Homes (OLHCHH). The 2021 campaign theme is "The Power of Partnerships." The campaign's aim is "to increase awareness of housing-related health hazards, lead poisoning prevention, and the overall principles of a healthy home, especially for low-income populations" and to "encourage residents to take the actions and steps for safe and healthy homes."
On June 23, 2021, Join Us for the #NHHMchat
on Twitter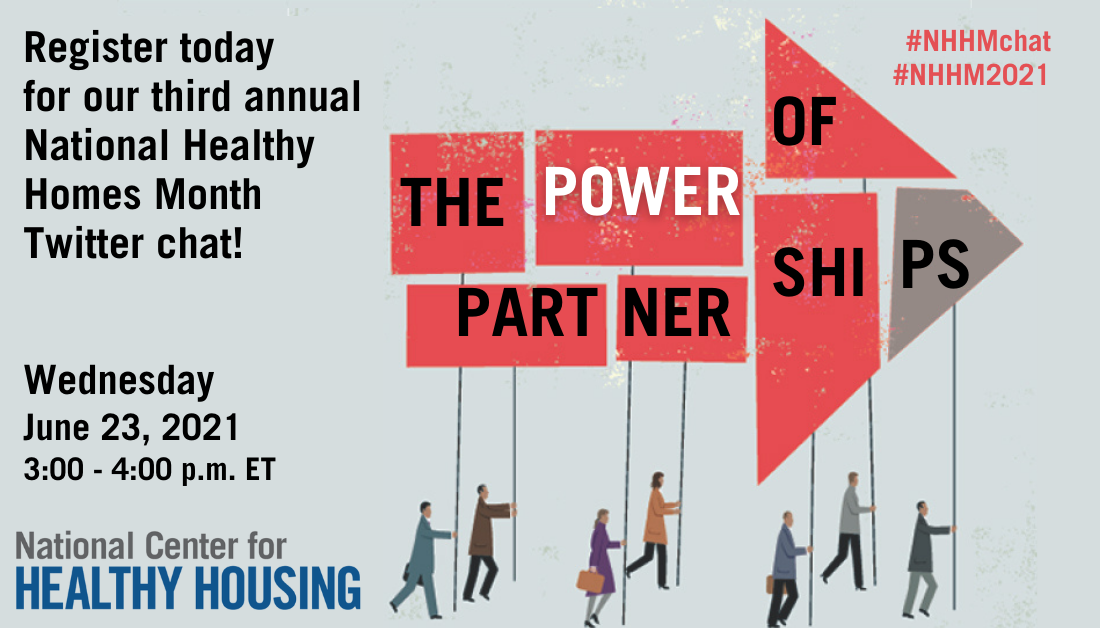 On June 23, the National Center for Healthy Housing (NCHH) hosts its third annual National Healthy Homes Month-themed Twitter chat (#NHHMchat) to exchange ideas, spread awareness, and take action on home hazard prevention and implementing effective healthy homes policies. We're again hosting the chat near the end National Healthy Homes Month to collect and amplify all the great healthy homes learning opportunities and resources that are shared throughout the month of June.
The 2021 #NHHMchat will be held Wednesday, June 23, from 3:00 p.m. to 4:00 p.m. ET (12:00 p.m. to 1:00 p.m. PT). Registrants will receive the questions and other updates prior to the chat. Registrants may now sign up for the chat here. 
The #NHHMchat aims to accomplish:
Raise awareness of the importance of home assessments and their impact on health.
Discuss resources for local government, communities, property owners, and residents.
Encourage strategic partnerships, regulatory action, and policies that promote healthy homes and lead poisoning prevention.
To participate, follow along on June 23 when @NCHH posts questions starting at 3:00 p.m. ET. Share your thoughts and ideas on policies, data, practices, and resources for healthy homes.
Be sure to use #NHHMchat in your tweets, so the chat participants can easily follow you and others during this event.
UPDATE: The #NHHMchat questions are now available.
Official NHHM2021 Campaign Materials
NOW AVAILABLE: Use the key materials and resources found in HUD OLHCHH's National Healthy Homes Month Campaign Resource Toolkit to promote encourage local implementation.
Campaign Resource Toolkits
Banners and Posters
Healthy Homes Resources
Natural Allies: Partnering to Improve Health and the Environment Through Housing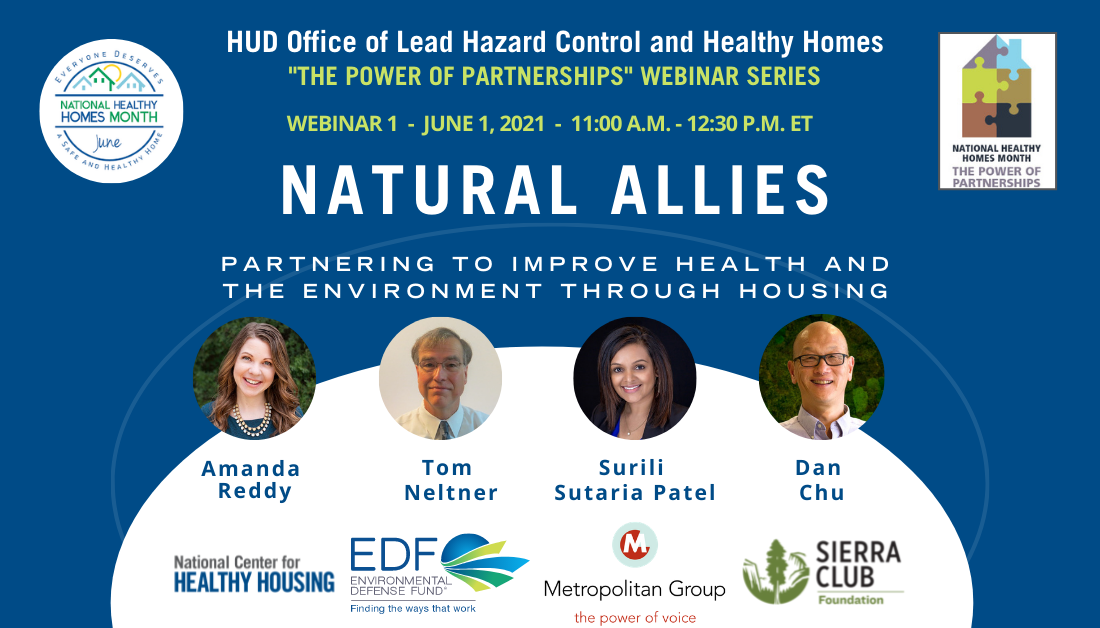 June 1, 2021, at 11:00 a.m. Register here.⠀
The leadoff webinar in HUD OLHCHH's "The Power of Partnerships" series, Natural Allies, will explore the reasons housing is often left out of conversations about improving our environment, what we can do about it, and why it matters for healthy housing. Major environmental groups have robust agendas related to climate change, clean water, and air quality; but, despite these common interests, they're rarely in conversation or partnership with healthy housing practitioners. The panelists will identify opportunities for increased collaboration and discuss why it's essential for advancing common goals related to the environment, healthy housing, health, and equity.
⠀
Presenters: Amanda Reddy, MS, Executive Director, National Center for Healthy Housing (NCHH); Dan Chu, MS, Executive Director, Sierra Club Foundation; Surili Sutaria Patel, MS, Vice President, Metropolitan Group; and Tom Neltner, JD, CHMM, Chemicals Policy Director, Environmental Defense Fund.
View Our Past Chats
You can view Wakelet collections of NCHH's past National Healthy Homes Month Twitter chats (#NHHMchat) below.