Sponsor the Healthy Housing Challenge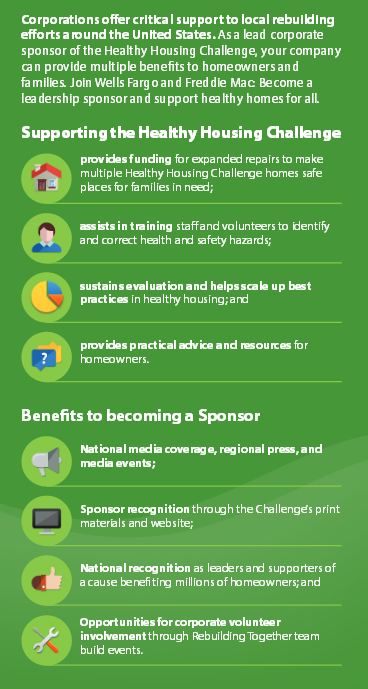 The Healthy Housing Challenge is a partnership between Rebuilding Together and NCHH, with funding support from the Wells Fargo Housing Foundation and Freddie Mac. Corporations offer critical support to local rebuilding efforts around the United States. Your corporate stewardship will provide multiple benefits to homeowners and families involved in the Healthy Homes Challenge. Become a lead sponsor and support healthy homes.
Your sponsorship can support the Healthy Housing Challenge in many ways:
Provide funding for repairs, upgrades, and weatherization to make a Healthy Housing Challenge home a safe place for a family in need;
Assist in training staff and volunteers from Rebuilding Together affiliates to identify and correct health and safety hazards;
Support research and reports on best practices in healthy housing; and
Provide practical advice and resources for homeowners through the Healthy Housing Clearinghouse.
Benefits to Healthy Housing Challenge Corporate Sponsors:
National media coverage, regional press, and media events;
Sponsor recognition through the Challenge's print materials and website;
National recognition as leaders and supporters of a cause benefiting millions of homeowners; and
Opportunities for corporate volunteer involvement through Rebuilding Together team build events.
Sponsorship Brochure [pdf]
To discuss how your organization can get involved and make an impact, contact Jonathan Wilson, Deputy Director, at jwilson@nchh.org, 443-539-4162 or Don Ryan, Senior Advisor, donryanemail@gmail.com,703-508-0035.