National Safe and Healthy Housing Coalition 2014 Awards Ceremony
On May 29, 2014, at a special ceremony during the HUD National Healthy Homes Conference in Nashville, Tennessee, representatives of the National Safe and Healthy Housing Coalition presented five awards to four outstanding organizations and one exceptional organizer.
Healthy Homes Champion Awards
Alameda County Healthy Homes Department
With a 22-year history of addressing health hazards in the home, the Alameda County Healthy Homes Department (ACHHD) has successfully case managed over 4,500 children with lead poisoning or asthma, remediated asthma triggers and/or lead hazards in over 2,200 homes, conducted housing interventions that have resulted in a 57% reduction in asthma-related hospitalizations, and trained more the 2,150 individuals in lead-safe work practices and healthy homes principles. The ACHHD also leads a 45-member Healthy Homes Alliance in advancing local housing policy. The ACHHD's collaborative multidisciplinary approach exemplifies what is needed to make significant and lasting change.
Accepting the award on behalf of the Alameda County Healthy Homes Department: Maricela Narvaez-Foster, Director.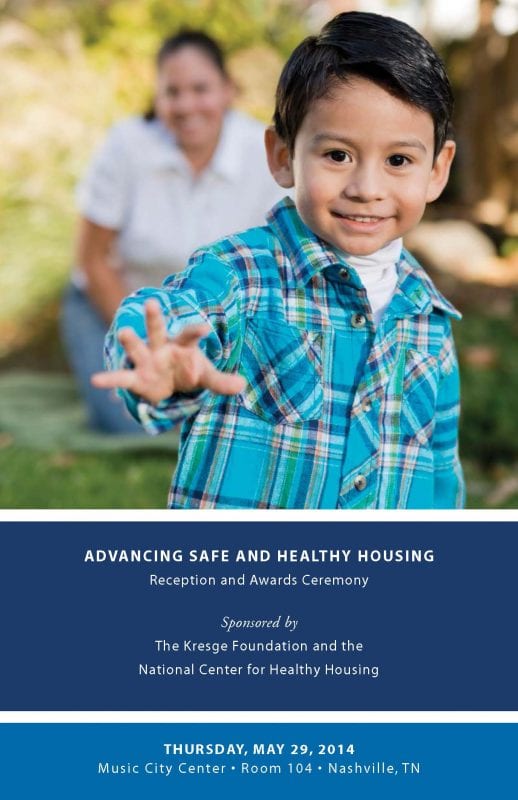 Boston Inspectional Services Department
In December 2012, the City of Boston passed the Rental Inspection Ordinance requiring private rental units to be registered annually and inspected. This proactive housing policy will improve public health for Boston residents by protecting tenants from housing conditions. The ordinance also works to remove the burden from the tenant to have to request the necessary repairs of their landlord. The Boston Inspection Services Department (ISD) conducts over 10,000 inspection complaints annually in communities of Boston with the most distressed housing, homes plagued with pest infestations, mold, lead, poor ventilation, and with a variety of unsafe conditions. Residents living in these homes are the most vulnerable populations, consistently having higher rates of asthma, respiratory problems, and lead poisoning. ISD is recognized for their proactive efforts to create safe and healthy housing for all Boston's residents.
Accepting the award on behalf of the Boston Inspectional Services Department: Indira Alvarez, Assistant Commissioner.
Little Sisters of the Assumption Family Health Service
The Little Sisters of the Assumption Family Health Service, a neighborhood-based nonprofit organization founded in 1958, works with the people of East Harlem, New York, to address the physical, emotional, educational, and spiritual dimensions of family health. Its home- and center-based programs are designed to empower those who are most vulnerable and who have least access to the basic necessities of life, in the conviction that the entire community grows when individuals and families are affirmed in their own dignity.
Accepting the award on behalf of the Little Sisters of the Assumption Family Health Service: Ray Lopez, Director of Environmental Health and Family Asthma Program.
Omaha Healthy Kids Alliance
The Omaha Healthy Kids Alliance has grown into one of Omaha's most innovative and productive nonprofits in its almost eight years of existence. OHKA currently assists over 300 families each year through healthy home visits, reaches thousands of individuals through community-wide education, and has helped 70 families make their homes greener, safer, and healthier in the past year. OHKA has raised over $7 million to advance greener, safer, and healthier homes in Omaha; many of those dollars have gone to partnering organizations to build a community-wide infrastructure that supports healthy housing. In 2013, OHKA received the Friend of the Environment Award from Earth Day Omaha and in 2014 is holding the first Healthy Housing Summit in Omaha to educate community leaders on healthy homes.
Accepting the award on behalf of the Omaha Healthy Kids Alliance: Kara Eastman, Executive Director.
Dennis Livingston Memorial Award for Exceptional Organizing
Laura Brion, Childhood Lead Action Project
Laura Brion has demonstrated exceptional talent and effectiveness as a community organizer with the Childhood Lead Action Project. Last year, the legislative campaign to save Rhode Island's Healthy Housing and Lead Poisoning Prevention Program was a success when the Rhode Island legislature included funding in the 2014 budget to compensate partially for the loss of CDC funds. Laura mobilized a statewide campaign including a launching a postcard campaign, organizing legislative leadership call-in days, preparing witnesses to testify at legislative hearings, holding constituent meetings with key legislators, and raising awareness of the campaign through media relations. Laura spearheaded an effort to persuade the city of Providence to require proof of lead-safe certification for contractors working on older homes. She also led efforts to ensure the enforcement of Rhode Island's Lead Hazard Mitigation Act, making Providence the first municipality in Rhode Island to comply with the law. Her tenacity, willingness to "speak truth to power," and boundless energy make her a deserving recipient of the award offered by the NSHHC in Dennis Livingston's memory.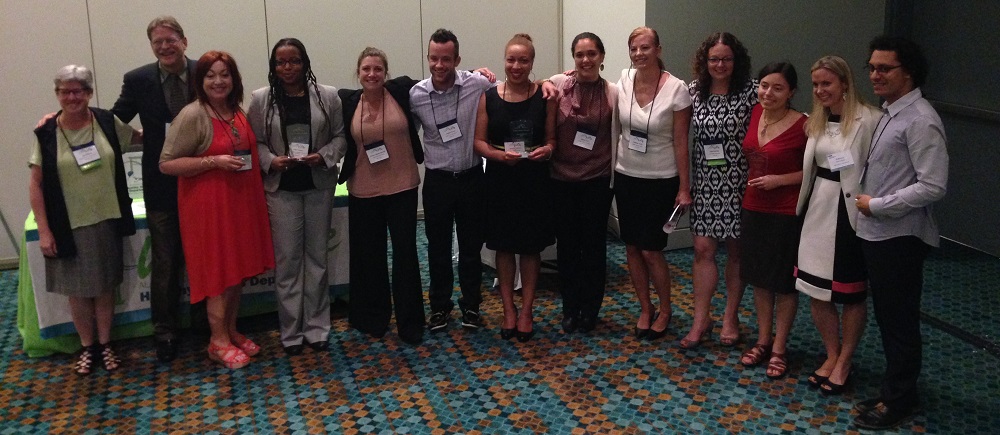 Resources
Program from the Advancing Safe and Healthy Housing Awards Ceremony [pdf]