National Lead Poisoning Prevention Week: October 23-29, 2016
NOTE: THIS IS AN ARCHIVED EVENT PAGE. FOR THE LATEST UPDATES ON NATIONAL LEAD POISONING PREVENTION WEEK, VISIT THE CURRENT PAGE HERE.
Join us during this year's Lead Poisoning Prevention Week as we raise awareness about lead poisoning.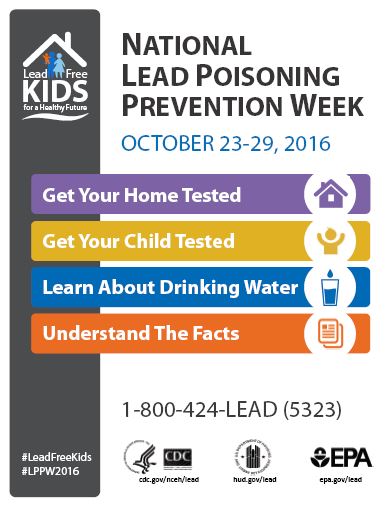 Lead Poisoning Prevention Week is October 23-29, 2016. How can you make the greatest impact during HUD, EPA, CDC, and WHO's week-long call-to-action to end childhood lead poisoning? In this session, you'll gain access to resources and strategies to raise awareness and take actions during Lead Poisoning Prevention Week and beyond!
NCHH and the Safe and Healthy Housing Coalition hosted a webinar on October 7 entitled Lead Poisoning Prevention Week: Making an Impact! Watch the webinar to learn:
Clear actions and tools to plan a successful event
How to engage traditional media effectively
Simple steps to use social media to create buzz
How to engage and invite elected officials
Tools to easily include families impacted by lead and elevate their stories to increase understanding, awareness, and political will
Webinar resources:
Planning an event?
Share information about your event with others worldwide by registering your activity on the World Health Organization (WHO) website.
Resources