NCHH Releases First Scientific Evaluation of Healthy Homes Interventions
New study shows housing improvements benefit health
Media Contact: Phillip Dodge
WASHINGTON, DC (January 12, 2009) — The National Center for Healthy Housing (NCHH) and the U.S. Centers for Disease Control and Prevention (CDC) recently completed the first U.S. scientific review of healthy homes interventions. The results are available in a new report titled Housing Interventions and Health: A Review of the Evidence.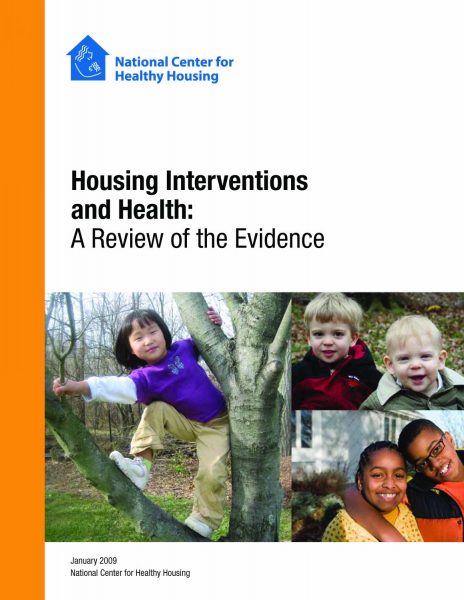 NCHH and CDC convened more than 30 of the nation's leading housing and health experts to document the housing and neighborhood improvements (interventions) that are scientifically proven to improve health and safety. The resulting report also identifies the housing interventions that require additional research.
"The places people live have a profound impact on health and well-being. To protect families, we need to know what changes we can make to homes and neighborhoods that will demonstrably improve health. This report helps close that gap," said NCHH Executive Director Rebecca Morley. 
Mary Jean Brown, Chief of the CDC's Lead Poisoning Prevention and Healthy Housing Branch adds "This report is a key element in our efforts to promote scientifically sound housing interventions that improve health."
The experts reviewed more than 170 scientific studies of housing interventions that improve asthma and respiratory problems, cancer, injuries, and other health concerns. A few of the interventions determined ready for broad-scale implementation include:
Lead hazard control to prevent lead poisoning
Integrated pest management (IPM) to reduce asthma and pesticide exposure
Comprehensive and tailored home-based asthma interventions
Active sub-slab depressurization to reduce lung cancer from radon gas
Smoke alarm installations to prevent injuries and death from residential fires
Read the full report here.
###
The National Center for Healthy Housing (NCHH) is the only national scientific and technical nonprofit organization dedicated to creating healthy and safe homes for America's children through practical and proven steps. NCHH develops scientifically valid and practical strategies to make homes safe from hazards, to alert low-income families about housing-related health risks, and to help them protect their children. NCHH also works with governmental and nongovernmental organizations to develop standards and programs and guide their implementation through insurers, lenders, federal and state laws and regulations, community organizations, and the courts.