A "Little Bit" of Asthma
by Susan Aceti
I'm not sure if it's because or I work at the National Center for Healthy Housing (NCHH) or despite working here, but when my daughter's pediatrician suggested that she might have "a little bit of asthma," I clearly remember the nurse patting my shoulder and saying, "Are you okay, Mom?" At the tender age of 11 months, the thought of her struggling to breathe was horrifying. Perhaps the "little bit of asthma" comment by her doctor was meant to soften the blow.
Asthma is, without a doubt, one of the most talked-about diseases related to healthy homes. In the courses offered by the Healthy Homes Training Center, instructors point out that there is sufficient evidence that dust mites can cause asthma, and that cats, cockroaches, dust mites, dampness and mold, and smoking can trigger asthma attacks.
As it turned out, my daughter's asthma is triggered by an upper respiratory infection – when she gets a cold, she usually starts coughing…a lot! Rather than wheezing, this constant cough is her asthma symptom. When this first happened, I treated it as a normal cold until one evening when she was so lethargic that I knew something was wrong. A panicky trip to the doctor led to the "little bit of asthma" diagnosis and a brand-new nebulizer to take home.
It probably took about a year before my daughter adjusted to the mask on her face. She was not happy about sitting still for the nebulizer with a mask over her face and wasn't old enough yet to be content to watch TV while the medicine was being delivered. So, nebulizer sessions often turned into a two-person operation with one person holding a flailing child and the other holding the mask. Since the nebulizer treatments are twice a day, one had to be fit into the rush of getting ready for work and day care in the morning. Thank goodness for an understanding employer, my own transportation, and flexible hours. I can only imagine the stress of one or both parents struggling to give their child nebulizer treatments while juggling hectic schedules, then having to catch a bus, train, or both to get to an employer who penalizes employees who are late to work by even a few minutes.
It's winter again, and "kids and colds" are a common combination at this time of year. While my daughter's asthma is not triggered by any environmental hazards at this point, her diagnosis gave me a new personal perspective on dealing with a disease that affects nearly nine million children in the United States. Fortunately, I feel prepared now with new nebulizer equipment (to replace the worn-out medicine compartment) and a stock of both medicines. But that wasn't always the case.
Early on, I made mistakes that taught me valuable lessons in managing my child's asthma. For starters, my doctor had given me a written asthma plan which got misplaced in the clutter of everyday life. I felt terrible when I discovered that I had mixed up the purpose of the medicines and was using the Albuterol®* for long-term maintenance and the Pulmicort* for rescue times. Fortunately, no harm was done, but I now know exactly where her plan is if I need to refer to it.
Then, after her first episode with asthma, I took a somewhat conservative approach to the medications and tried not to have her on her rescue medication (Albuterol) any longer than seemed necessary. Her doctor also added a maintenance medication (Pulmicort) to take as soon as a cold started and for a week or two after the cold ended. Being cautious about giving my young daughter so much medication, I chose the minimum time that seemed necessary. That approach seemed okay until one cold came along and I could not get her out of the coughing phase. After a trip to the emergency room one Sunday, I threw the conservative approach out the window! For the next cold, I launched a preemptive attack that any military general would have been proud of and used both medicines for the maximum time suggested by my doctor. The result? Her cold and cough went away and I patted myself on the back for several weeks afterward.
What's the most important lesson I've learned? Coping with asthma can be really difficult. It has to be terribly difficult for parents with fewer resources than I have to deal with it. I have the utmost empathy for all of the parents out there dealing with asthma, and I have the greatest admiration for all of the asthma professionals who work hard to educate and support those parents.
*Note: The medications mentioned in this article were prescribed to the author's child by a licensed physician and should be viewed as examples only. The National Center for Healthy Housing does not favor or recommend any brand or service. If you suspect that your child may suffer from asthma, please take them to a licensed pediatrician and never administer any type of pharmaceutical without the approval of the child's doctor.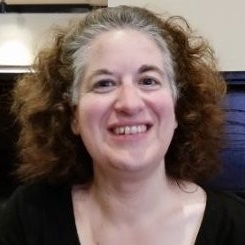 Susan Aceti joined the National Center for Healthy Housing as a project manager in November 2005. In October 2014, she transitioned to NCHH's for-profit subsidiary, Healthy Housing Solutions, as a senior analyst and manager of the National Healthy Homes Training Center and Network, which provided over 100 training sessions around the nation every year. Ms. Aceti is skilled in instructional systems design, for on-site courses as well as instructor-led and self-study eLearning. Before joining the NCHH family, Ms. Aceti was a community organizer with the Citizens Planning and Housing Association, a public participation coordinator with the Baltimore Metropolitan Council, and a Geographic Information Systems (GIS) software consultant. She also worked for the Coalition for Low-Income Community Development, where she provided training and technical assistance to local governments and nonprofits to encourage citizen participation in the Community Development Block Grant (CDBG) program. Ms. Aceti holds a bachelor's degree in sociology from Hobart and William Smith Colleges and earned her MSW at the University of Maryland. She left the NCHH organization in 2019.