Threats or Promises: Which Way for the Trump Administration on Childhood Lead Poisoning Prevention?
by David Jacobs
Recent news articles suggest that Trump's EPA hopes to drastically cut funding and staff for its lead poisoning prevention programs ("EPA Memo Outlines Plans to Defund Lead-Paint Program," in Remodeling, April 4; and "Trump's EPA Moves to Dismantle Programs that Protect Kids from Lead Paint," in The Washington Post, April 5). This follows on the heels of a high-level meeting between the EPA's new administrator, Scott Pruitt, and the National Association of Home Builders (NAHB). NAHB complained about so-called "excessive" regulations, specifically EPA's Renovation, Repair, and Painting (RRP) Rule.
But it was exactly inadequate regulations that led to the Flint crisis and others like it, such as the East Chicago disaster in Indiana, the vice-president's home state.
The fact is that congressional action and regulations have worked: Blood lead levels in the nation's children have been greatly reduced  as a result of the implementation of statutes and regulations (see "U.S. Policies vs. Children's Average Blood Lead Levels" below). When we as a nation mandated the removal of lead from food canning, gasoline, new residential paint, plumbing and other sources, all through regulations, it worked. If anything, the regulations should be strengthened, not weakened, because over half a million children still have blood lead levels above the CDC reference value.1
Some industries have supported these regulations over the years,2 but a few others have actively opposed them.3 Most recently for example, the National Association of Home Builders (NAHB) wants the EPA's RRP regulation restricted to only pre-1960 housing, even though lead paint was not banned (by regulation) until 1978. They want "training" of their contractors to be only online, when in fact construction contractors don't really learn that way. They want a new cost-benefit analysis, even though many previous studies have already shown that the benefits far outweigh the costs.4, 5 NAHB already succeeded in previous years in eliminating a dust testing requirement that has existed for years in federally assisted housing rehab work with scientifically proven positive results.6 (Children's blood lead levels in assisted housing are lower than in non-assisted low-income housing, and dust testing [dust is one of the main ways children are exposed] is the major reason why). NAHB should protect the interests of its members by ensuring that homes are safe, not cutting corners and weakening laws and regulations that, if anything, need to be strengthened. And it should work to ensure that its member contractors don't inadvertently do sloppy work that can cost $100,000 per house to clean up.7
Furthermore, preventing childhood lead poisoning not only protects children, it will create at least 75,000 good-paying jobs.8
During his campaign, the president promised to fix things that don't work right. What better example is there that lead poisoning needs to be fixed than the 24 million homes that still have lead paint hazards, or the 6-10 million homes that still have lead water pipes? The solution is not to weaken regulations or to cut budgets but to strengthen them, putting the resources in place to end this preventable disease. Lead problems are a sign of our crumbling infrastructure, something the president also vowed to fix. We think that an infrastructure bill should include lead poisoning prevention.
At HUD, the new Secretary, Dr. Ben Carson, promised to "enhance" lead poisoning prevention and healthy housing, proposing to increase the budget for that program from $110 million to $130 million. But at the same time, the proposed HUD budget wipes out the multi-billion-dollar Community Development Block Grant (CDBG) program. Many local jurisdictions use CDBG to provide their local "match" funding, anywhere from 10% – 25%, for lead hazard control. So, even though the proposed increased funding for the lead program is welcome, it appears that with the CDBG proposed elimination, the net effect will reduce, not increase, the total HUD resources to protect our children from lead poisoning. Why give with one hand only to take away more with the other?
The National Safe and Healthy Housing Coalition has produced a number of recommendations that will protect our children.
We urge the new administration and the new Congress to act on those recommendations to improve (not weaken) regulations and to propose a budget that will get the job done.
Instead of paying over $50 billion a year for lead poisoning, let's solve the problem, not eliminate EPA programs or reduce HUD funding. At its beginning, the Flint fiasco was supposedly an attempt to save money, and NAHB's wishes sound just like that, don't they? We cannot afford another Flint, and we cannot afford to continue to pay the high costs of needlessly poisoned children. In Flint and across the nation, we will now spend far more now than had we acted to solve the problem in the first place. And we do know how to solve it. We should act on what we know, put our people to work, protect our children, and stop wasting money by caving in to a few narrow short-sighted industries at the expense of the rest of us.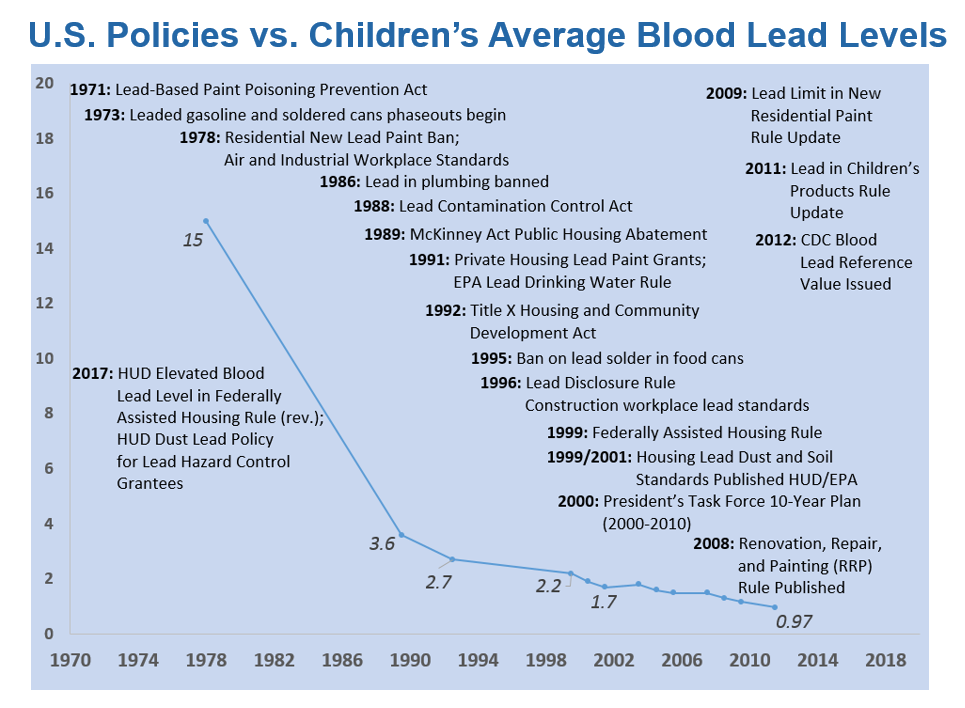 _______________
1 Wheeler, W., & Brown, M. J. (2013, April 5). Blood lead levels in children aged 1–5 years — United States, 1999–2010. Morbidity and Mortality Weekly Report (MMWR), 62(13), 245-248. Retrieved April 6, 2017, from https://www.cdc.gov/mmwr/preview/mmwrhtml/mm6213a3.htm
2 National Safe and Healthy Housing Coalition. (2016). Declaration of the Lead and Environmental Hazards Association. Retrieved April 6, 2017, from  http://nchh.org/resource-library/LEHA_Declaration_2016.pdf
3 Jacobs, D. E. (2016 July-August). Lead poisoning: Focusing on the fix. Journal of Public Health Management and Practice, 22(4):326-330. doi: 10.1097/PHH.0000000000000430. Retrieved from http://journals.lww.com/jphmp/Citation/2016/07000/Lead_Poisoning___Focusing_on_the_Fix.2.aspx
4 Gould, E. (2009, July). Childhood lead poisoning: Conservative estimates of the social and economic benefits of lead hazard control. Environmental Health Perspectives, 117(7), 1162-1167. Retrieved April 6, 2017, from https://www.ncbi.nlm.nih.gov/pmc/articles/PMC2717145/pdf/ehp-117-1162.pdf
5 Nevin, R., Jacobs, D. E., Berg, M., & Cohen, J. (2008, March). Monetary benefits of preventing childhood lead poisoning with lead-safe window replacement, Environmental Research, 106(3), 410-419. Retrieved April 6, 2017, from http://www.ncbi.nlm.nih.gov/pubmed/17961540
6 Ahrens, K. A., Haley, B. A., Rossen, L. M., Lloyd, P. C., & Aoki, Y. (2016, November). Housing assistance and blood lead levels: Children in the United States, 2005-2012. American Journal of Public Health, 106(11), 2049-2056. Retrieved April 6, 2017, from https://www.ncbi.nlm.nih.gov/pubmed/27631737
7 Jacobs, D. E., Mielke, H., & Pavur, N. (2003, February). The high cost of improper removal of lead-based paint from housing: A case report. Environmental Health Perspectives, 111(2), 185-186. from https://www.ncbi.nlm.nih.gov/pmc/articles/PMC1241348/
8 National Center for Healthy Housing & National Safe and Healthy Housing Coalition (2017, February). Find It, Fix It, Fund It: A lead elimination action drive: Policy recommendations to Congress and the new administration. Retrieved April 6, 2017, from http://bit.ly/FFFAdmin
9 Jacobs, D., & Weinberg, A. (2017, February 22). Infrastructure and mortgages: What about the kids? National Center for Healthy Housing website. Retrieved April 6, 2017, from http://bit.ly/Infra_Kids
Dr. David Jacobs, former Director of the Lead Poisoning Prevention Program at the U.S. Department of Housing and Urban Development, is the Chief Scientist for the National Center for Healthy Housing and an adjunct professor at the University of Illinois at Chicago School of Public Health.