National Center for Healthy Housing Announces New Executive Director
Nancy Eldridge to Focus on Well-Home Network Implementation
Media Contact: Christopher Bloom, 443.539.4154, cbloom@nchh.org
The
National Center for Healthy Housing
is pleased to announce that its Board of Directors has unanimously approved a transition in leadership at the organization. Amanda Reddy, currently Director of Strategy and Impact, will succeed Nancy Rockett Eldridge as Executive Director, effective May 15, 2017. Ms. Eldridge will lead the
Well-Home Network
, an exciting new initiative that NCHH has been proud to foster and develop over the past 18 months.
"I am thrilled about the opportunities that exist for both NCHH and the Well-Home Network," said Ms. Eldridge, commenting on her new role as Director of the Well-Home Network. "I have worked with our Executive Committee and the full Board on talent development and succession plans. Together, we have great confidence that Amanda Reddy is prepared to lead NCHH forward as it advances its mission of securing healthy housing for all."
Ms. Reddy is an experienced public health professional who, in her current position, has been responsible for NCHH's strategic direction and for achieving measurable impact nationally. Since joining NCHH in 2013, Ms. Reddy has advanced numerous organizational initiatives, including those related to increasing healthcare financing of healthy homes services.
"The Board has been thoroughly impressed by the passion and leadership qualities that Amanda Reddy has displayed at NCHH," said Marcheta Gillam, chair of NCHH's Board of Directors. "As we celebrate our 25th anniversary as an organization dedicated to promoting healthy housing policies, we look forward to working with Ms. Reddy to improve health and reduce health disparities nationwide."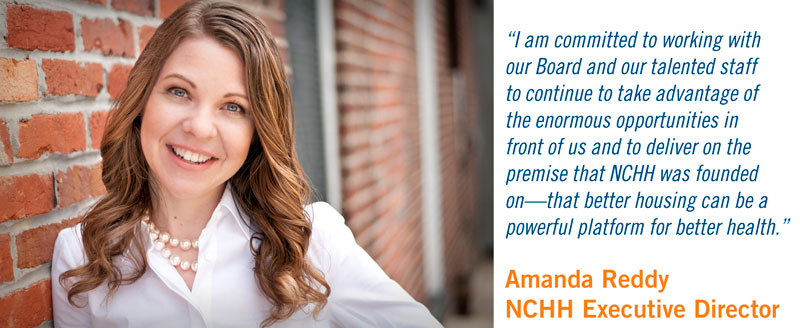 NCHH was founded by
Enterprise Community Partners
in 1992 and is headquartered in Columbia, MD. NCHH is dedicated to securing healthy homes for all through the integration of health and housing science and policy. It supports the development of progressive healthy housing policies in both the public and private sectors through its leadership of the
National Safe and Healthy Housing Coalition
. For the past 25 years, NCHH has served as a highly regarded and credible change agent, successfully integrating healthy housing advocacy, research, and capacity-building under one roof to reduce health disparities nationwide.
Under Ms. Eldridge's leadership, NCHH formed the Well-Home Network to bring together, amplify, and expand the work of housing-based service models at affordable nonprofit housing organizations. Housing-based service models provide a full range of high-quality residences, nonmedical supports, social services, and health promotion and wellness activities, in collaboration with the medical system and social service partner agencies, to ensure that low-income older adults age successfully in their communities. The network's goals are to achieve better health and well-being and social engagement of elderly residents and their peers in the surrounding neighborhoods while reducing Medicare and Medicaid costs.
"Given the extensive and complex needs of our aging population, proven interventions like these are essential to delivering better care, smarter spending, and healthier people," said Ms. Eldridge. Later this year, the Well-Home Network will incorporate as a separate legal entity led by Ms. Eldridge. The establishment of the Well-Home Network is the culmination of an 18-month planning effort, informed by partners at
LeadingAge
,
Cathedral Square Corporation
, and other key stakeholders in the field of housing-based service models. Prior to joining NCHH, Ms. Eldridge founded the acclaimed Support and Services at Home (SASH) initiative at Cathedral Square Corporation in Burlington, VT.

Ms. Eldridge and Ms. Reddy worked closely together throughout the planning period. "I am truly honored and humbled to be selected by the Board to succeed Nancy," said Ms. Reddy. "Nancy has offered valued support and mentoring to me. The Well-Home Network fills a critical need for older adults, and NCHH has shown that it is once again at the forefront of positive change by serving as an incubator for this concept."
Prior to joining NCHH, Ms. Reddy was a research scientist with the
New York State Department of Health
, where she contributed to the success of many programs including Asthma Control, Healthy Homes and Lead Poisoning Prevention, Healthy Neighborhoods, and Healthy Home Environments for New Yorkers with Asthma. Ms. Reddy earned a master's degree in environmental health from the London School of Hygiene and Tropical Medicine and holds a bachelor's degree in neuroscience and behavior from Mount Holyoke College.
Ms. Reddy is enthusiastic about the future of healthy housing and NCHH's role in advancing it: "I am committed to working with our Board and our talented staff to continue to take advantage of the enormous opportunities in front of us and to deliver on the premise that NCHH was founded on—that better housing can be a powerful platform for better health."
##
About the National Center for Healthy Housing
Originally founded as the National Center for Lead-Safe Housing in 1992, the National Center for Healthy Housing (NCHH) is the preeminent national nonprofit dedicated to securing healthy homes for all. Since 1992, NCHH has successfully integrated healthy housing advocacy, research, and capacity-building under one roof to reduce health disparities nationwide. You can follow NCHH on Twitter (
@nchh
) or LinkedIn, or become a fan on Facebook at
Facebook.com/HealthyHousing
.