Newly Released Federal Action Plan Falls Short of Expectations in "War on Lead"
Media Contact: David Jacobs, djacobs@nchh.org, 443.539.4157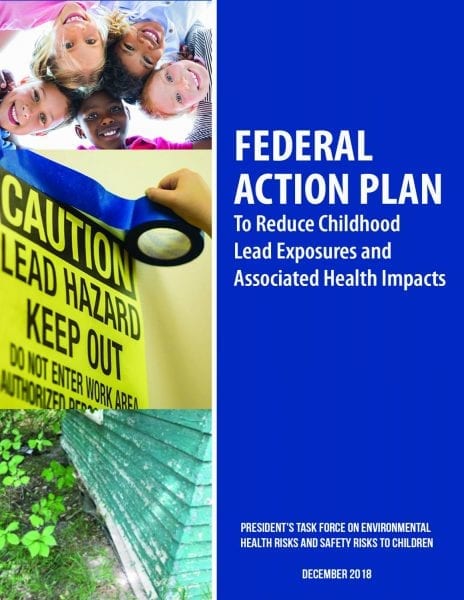 WASHINGTON, DC (December 19, 2018) — Today, the federal government released its much-anticipated Federal Action Plan to Reduce Childhood Lead Exposure and Impacts. In the wake of the crisis in Flint, the document unveiled today fell far short of former EPA Administrator Pruitt's declaration of a "war on lead." While individual agency actions over the last year have given advocates and communities reason for hope, this new federal strategy does little to support those actions or set a new vision for eliminating lead exposure.
The content of the strategy is not objectionable; it simply isn't new, and it lacks substance, particularly around how efforts will be funded and achieve meaningful impact for the half-million children with elevated blood lead levels or for the families living in the estimated 10 million homes with lead service lines or 37 million homes with lead paint. The strategy is correct in noting the real progress we've made in reducing lead exposure but missed a critical opportunity to set the stage for finishing that fight.
"Lead poisoning is a problem we can solve," noted Amanda Reddy, Executive Director of the National Center for Healthy Housing. "We can eliminate unnecessary lead exposures, but only if we commit to looking at lead exposure holistically and to implementing and funding comprehensive solutions that address the entire range of exposures within a given community. At a time when we should be shifting our focus from managing lead exposure to eliminating it, this federal lead strategy does little to advance that vision."
###
About the National Center for Healthy Housing
The National Center for Healthy Housing (NCHH) is the preeminent national nonprofit dedicated to securing healthy homes for all. Since 1992, NCHH has served as a highly regarded and credible change agent, successfully integrating healthy housing advocacy, research, and capacity building under one roof to reduce health disparities nationwide. You can follow NCHH on Twitter (@nchh) or LinkedIn or become a fan on Facebook at www.facebook.com/HealthyHousing.