The award celebrates best practices models in the field of aging and health
Media Contact: Michelle Harvey, 443.539.4166, mharvey@nchh.org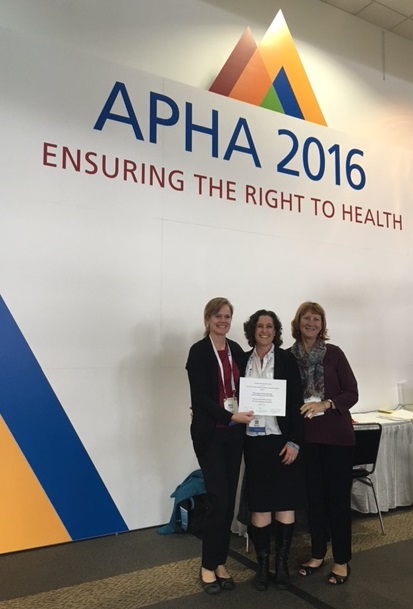 Denver, CO (October 31, 2016)—The Aging and Public Health Section of the American Public Health Association (APHA) and Archstone Foundation have presented the SASH (Support And Services at Home) program with the 2016 Award for Excellence in Program Innovation at its 144th Annual Meeting, held this afternoon in Denver, Colorado.
Recognizing that the country's growing population of older adults requires a greater integration of systems than previously available, SASH has successfully linked the healthcare and housing sectors, improving health outcomes and reducing the growth of Medicare expenses in senior communities. The University of Vermont Center on Aging, longtime champions of the program, nominated SASH for the Award.
Using a population health approach to improve the well-being of Vermonters, SASH creates community clinical linkages through a network of providers, using the home as the focus of care coordination. Affordable housing organizations across the state provide for a home-based care coordinator and wellness nurse to work collaboratively with a team of community providers to meet the self-identified goals of SASH participants. Cathedral Square, a Vermont-based nonprofit that develops and manages affordable housing communities for seniors and people with disabilities, administers SASH, which operates in 140 senior housing communities statewide via 21 affordable housing organizations.
Archstone Foundation's Award for Excellence in Program Innovation identifies best practices models in the field of aging and health. Archstone favors programs that effectively link academic theory with applied practice in the field of aging and public health.
Said NCHH's Nancy Rockett Eldridge, Executive Director, who founded SASH in 2009 while running the Vermont-based Cathedral Square: "I'm so grateful to Archstone Foundation for recognizing the real impact SASH is having on thousands of seniors aging at home. This recognition fuels our drive to see it replicated all across the country." Ms. Eldridge and NCHH have partnered with Saint Elizabeth Community in Rhode Island and Presbyterian Homes & Services in Minnesota. NCHH is also working with the Lewin Group and LeadingAge to replicate a model based on SASH principles to 40 HUD (Department of Housing and Urban Development) housing communities across 8-12 states initially. The success of the new program will lead to its implementation nationwide, radically improving the world of elder care.
Photo: left to right: Molly Dugan and Stefani Hartsfield (SASH), and Jeanne Hutchins (University of Vermont Center on Aging) with the award.
Photo by Nancy Rockett Eldridge.
##
About SASH
The SASH (Support And Services at Home) model operates statewide as part of Vermont's Blueprint for Health. SASH is a care management model that harnesses the combined strength of affordable housing organizations, primary care providers, home health agencies, area agencies on aging, community mental health providers, hospitals, and universities to support approximately 5,000 Vermonters in aging safely and healthfully at home. www.sashvt.org
About Cathedral Square
Cathedral Square is a nonprofit organization created in 1977. The organization develops and operates communities for seniors and individuals with special needs. Cathedral Square's mission to support "healthy homes, caring communities, and positive aging" begins with providing service-enriched housing to over 1,154 residents. Cathedral Square owns and/or manages 30 housing communities, each uniquely designed to provide safe and secure apartments at an affordable price. www.cathedralsquare.org
About Presbyterian Homes & Services
Presbyterian Homes & Services is a nonprofit organization that strives to honor God by enriching the lives and touching the hearts of older adults. They seek to provide more choices and opportunities for more older adults to live well. http://www.preshomes.org
About Saint Elizabeth Community
Saint Elizabeth Community offers a full spectrum of care and services for Rhode Island seniors, ensuring they receive the right care, in the right place, at the right time. St. Elizabeth Community embraces the needs of each individual in an environment where those they care for, and work with, are treated just like family. www.stelizabethcommunity.org/
About the University of Vermont Center on Aging
The mission of the Center on Aging at the University of Vermont is to forge an ongoing collaboration among faculty, students, staff and programs within the University of Vermont, the University of Vermont Medical Center, and the Vermont community to promote a sense of well-being and a high quality of life for older adults. The Center seeks to engage interested parties who wish to partner in the development and execution of programs that facilitate the health and welfare of older adults. www.med.uvm.edu/centeronaging/
About Archstone Foundation
Established in 1986, Archstone Foundation is a private, nonprofit foundation whose mission is to prepare society for the growing needs of an aging population. Under the leadership of Joseph F. Prevratil, J.D., President and CEO, Archstone grants up to $5 million annually, primarily in Southern California. www.archstone.org
About the American Public Health Association
The American Public Health Association works to advance the health of all people and all communities. As the nation's leading public health organization, APHA strengthens the impact of public health professionals and provides a science-based voice in policy debates too often driven by emotion, ideology, or financial interests. APHA is at the forefront of efforts to advance prevention, reduce health disparities and promote wellness. www.apha.org
About the National Center for Healthy Housing
Originally founded as the National Center for Lead-Safe Housing in 1992, the National Center for Healthy Housing (NCHH) is the preeminent national nonprofit dedicated to securing healthy homes for all. Since 1992, NCHH has successfully integrated healthy housing advocacy, research, and capacity-building under one roof to reduce health disparities nationwide. You can follow @nchh on Twitter or become a fan on Facebook. www.nchh.org