A Few of Our Favorite Things: A Review of Key Healthy Housing Resources Created by Partners in 2019
by Amanda Reddy, National Center for Healthy Housing
For those of us celebrating holidays this month, the gifts have already been opened, but we'd like to wrap up 2019 (and the decade) by sharing a few of our favorite things. If you know anything about NCHH, you know that we do almost everything in collaboration and that our partners are at the very top of our favorite things list every year. But our partners have been busy producing incredible new tools and resources all year long that are bound to become your new favorites too. We may have forgotten a few, but take a look at our favorites and then take a moment to tell us about some of yours!
Value of Lead Prevention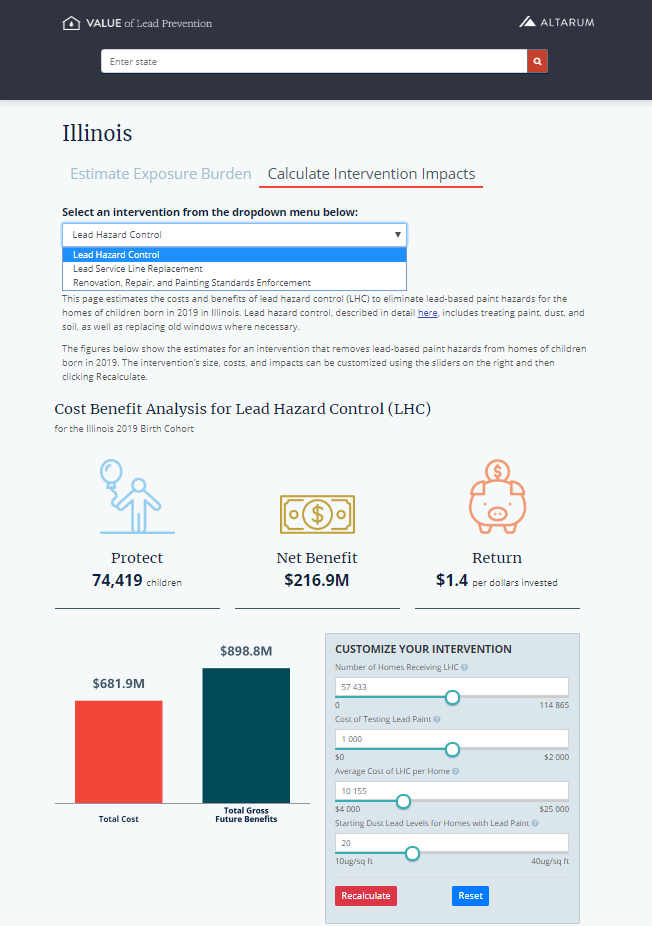 Partner: Altarum
The United States lags behind many major countries in reducing sources of lead exposure even though many children in the U.S. are at risk. In 2016, an estimated 270,000 children between the ages of one and five had elevated blood lead levels. The Value of Lead Prevention website, created by Altarum with support from the Robert Wood Johnson Foundation, allows state and community leaders and the public to easily calculate the cost of lead exposure in their state. It also computes the economic benefits of specific policies and programs, from replacing lead drinking water service lines to eradicating lead paint hazards in older homes. The state-specific estimates are a really powerful tool for advocates and policymakers, but what makes this tool really stand out is the ability to customize the inputs for your particular state. If you have better data on average starting dust lead levels or the average cost of lead hazard control, you can adjust the inputs and the infographics update immediately to reflect the estimated costs and savings. We also hear that there may be plans in the works to create a municipal-level version of this tool in the future, so check out Value of Lead Prevention today, but stay tuned for updates!
Tribal Indoor Air Funding Directory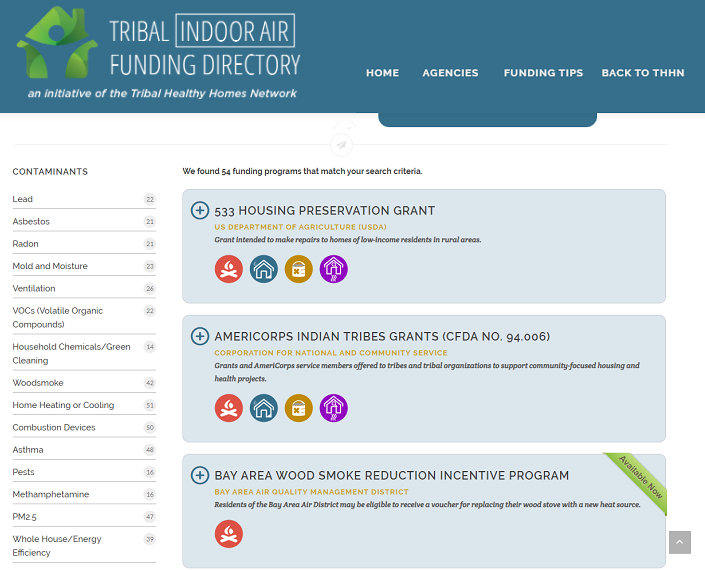 Partner: Tribal Healthy Homes Network
Tribal Healthy Homes Network's interactive database, the Tribal Indoor Air Funding Directory, is designed to help you find funding opportunities that match your unique and specific criteria, helping you build a funding portfolio for your project. You can narrow search results by contaminant, federal region, activity type, and type of eligible organizations. We love that it was created with and for tribal audiences but is a resource that many will find invaluable!
Interactive Lead Funding Toolkit for Practitioners
Partner: Green & Healthy Homes Initiative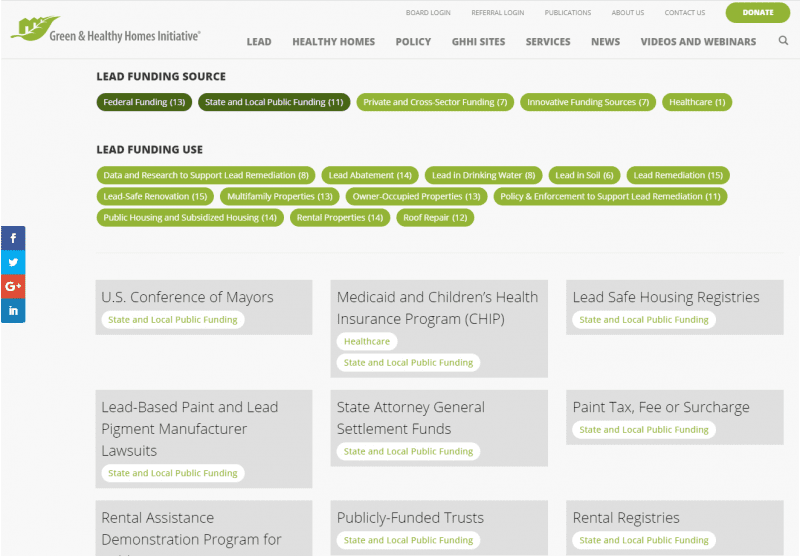 The Green & Healthy Homes Initiative's (GHHI) Interactive Lead Funding Toolkit for Practitioners features over 40 sources of funding currently used to address lead hazards in residential properties and outlines strategies on the horizon of lead poisoning prevention. This toolkit provides specific implementation instructions for each funding strategy and highlights examples of funding in communities across the country. Funding tools are categorized by both funding source and funding use, and a filtering function allows you to narrow or expand your results. Another feature we really like is that each funding tool can be printed using the "Print This Document" button on the left side of the page, allowing you to create a funding toolkit tailored to your state's or community's unique needs. Funding is likely on the top of your wishlist for 2020, and this should be one of your first stops!
Grading the Nation: Lead Pipe Disclosure Policies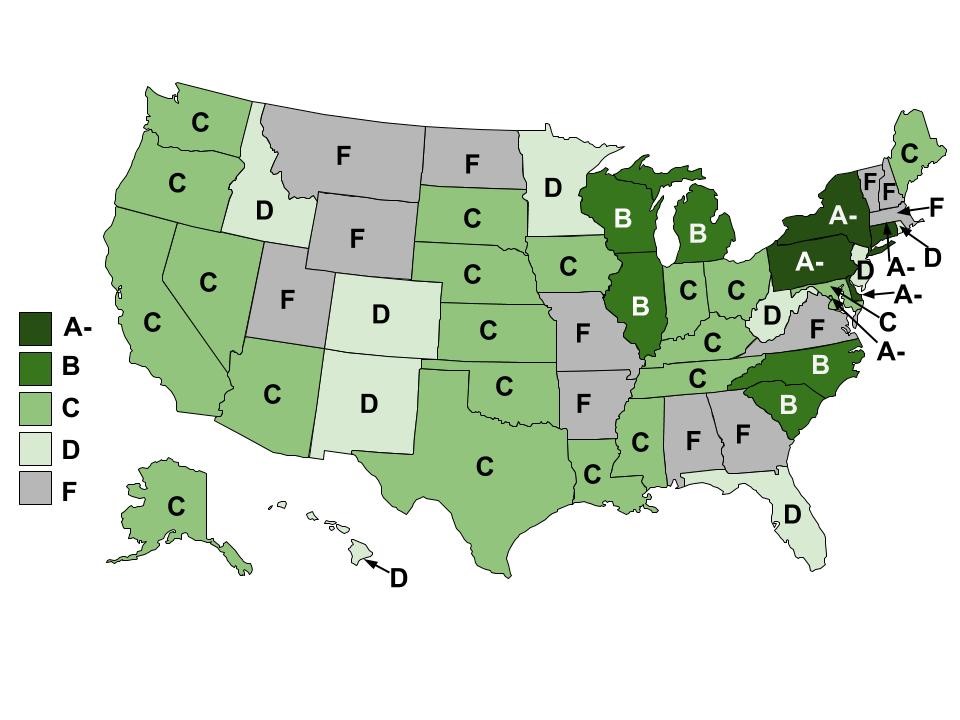 Partner: Environmental Defense Fund
Okay, Grading the Nation: Lead Pipe Disclosure Policies was technically from 2017, but it was updated in 2019, and that's a good enough reason to remind you that it exists. To create this tool, Environmental Defense Fund (EDF) analyzed and graded the housing disclosure policies of all U.S. states and the District of Columbia according to their ability to help homebuyers make informed decisions about lead service lines before they sign a sales contract. You can see how your state measures up (are you in one of the five states that earned an A- or better?), but also see sample language that might help your state improve its grade and better protect the health of residents. And while you're talking about disclosure language at the state level, there's another loophole you might want to consider addressing….
Legal Levers for Health Equity in Housing Report Series
Partner: Temple University Center for Public Health Law Research
The Temple University Center for Public Health Law Research's report series, Legal Levers for Health Equity in Housing, explores the role of law in housing equity and exploring innovative uses of law to improve health equity through housing. The six reports are based on extensive literature reviews and a robust process of semi-structured interviews with thought leaders and people who are taking action in housing policy and practice. This series focuses on how laws and legal practices related to housing have influenced the availability of quality, affordable housing in socially and racially inclusive neighborhoods—and how the policies that work can be coordinated and scaled up for maximum national impact. The reports are great, but the team at Temple also knows that all of us are busy and sometimes don't have the time to get around to reading everything that comes our way, so they have thoughtfully created a short video abstract for each report – watch one per day during lunch and you can get caught up on the series in less than a week! Another great resource on health equity and lead poisoning prevention that didn't make this year's list because it was technically released at the end of 2018 is the Joyce Foundation's Achieving Equity in Lead Poisoning Prevention Policy Making. Families USA also published a brief in 2019 called Advancing Health Equity through Better Evidence for Asthma Care.

Bridging Silos: Collaborating for Environmental Health and Justice in Urban Communities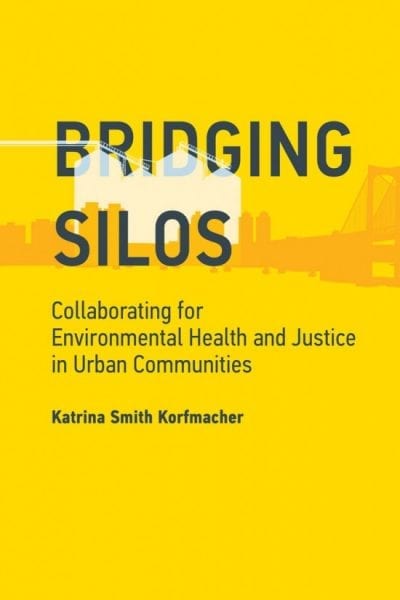 Partner: Katrina Smith Korfmacher
Katrina Smith Korfmacher herself is one of NCHH's favorite resources, but in this new book. Bridging Silos: Collaborating for Environmental Health and Justice in Urban Communities, she outlines how communities can collaborate across systems and sectors to address environmental health disparities with case studies from Rochester, New York; Duluth, Minnesota; and Southern California. There's even a free digital download (see the "Open Access" tab), so there's no excuse not to dive into this excellent resource. Not convinced? Here's what former EPA Administrator Gina McCarthy has to say about it: "Bridging Silos offers hope at a time of federal inaction on pressing environmental and public health issues. Through practical examples, Korfmacher shows that by listening to the most vulnerable voices, working across political and bureaucratic boundaries, and designing systemic solutions, our local communities can keep our country moving forward."
Leading the Way to Better Breathing: Managed Care Organizations and Asthma Home Visiting Services in California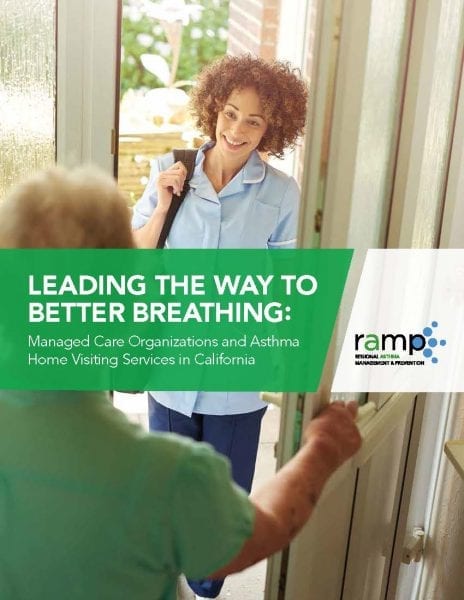 Partner: Regional Asthma Management and Prevention 
Leading the Way to Better Breathing: Managed Care Organizations and Asthma Home Visiting Services in California, a tool from Regional Asthma Management and Prevention (RAMP), highlights the numerous benefits of asthma home visiting services, from their ability to achieve triple-aim goals to supporting quality improvement initiatives to addressing more "upstream" health determinants. The tool also explains an abundant number of opportunities managed care organizations can take advantage of to make support for asthma home visiting services as easy and as efficient as possible, including some best-practice examples from the field. While this tool is specifically geared towards encouraging investment in home-based asthma services in California, it contains a lot of great information and a useful framework for making the case in any state.
Health in All Policies Monthly Technical Assistance Webinars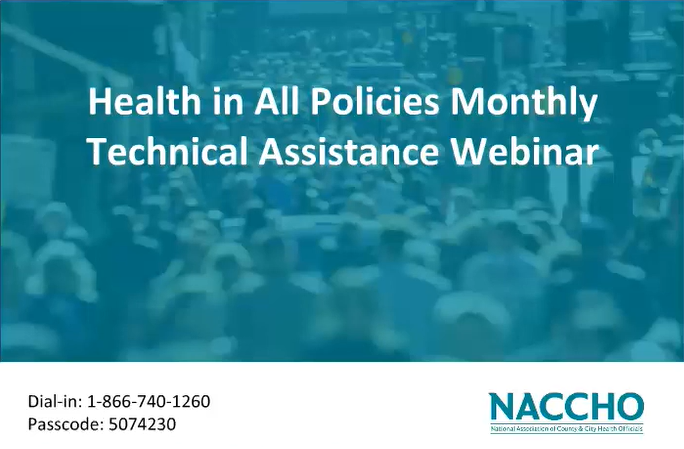 Partner: National Association of County and City Health Officials
The National Association of County and City Health Officials (NACCHO) hosted a Health in All Policies (HiAP) technical assistance webinar series for local health departments from December 2018 through July 2019. The goal of the series was to provide an open, informal space for dialogue and peer-to-peer sharing about challenges and best practices. The series included a July 2019 webinar focused specifically on using HiAP to address lead poisoning prevention but also a lot of other important topics like rural health, increasing health department capacity, cross-sector collaboration, and more. Don't worry if you missed this critical series – the recordings are all available online, and the word on the street is that another webinar series will kick off in January 2020.
Energy-Plus-Health Playbook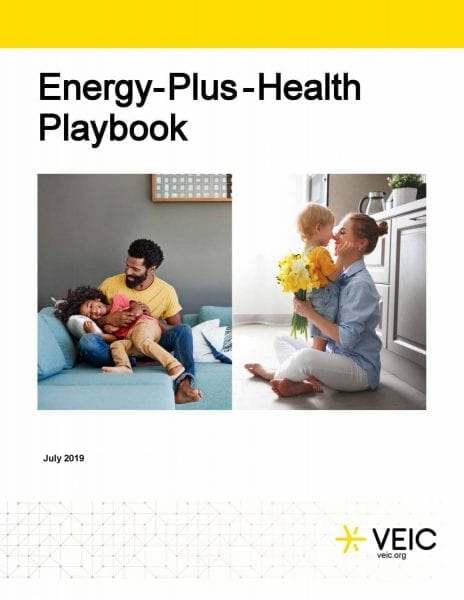 Partner: VEIC
VEIC's Energy-Plus-Health Playbook is intended for use by energy efficiency program administrators interested in developing or expanding healthy homes programming, referred to as Energy-Plus-Health programs. Both the energy efficiency and healthcare sectors face systemic challenges to—and emerging opportunities to improve—their existing customer and patient interactions and business models. New collaborations nationwide are addressing these challenges and opportunities by bringing together energy efficiency and health resources. What you'll love about this playbook is that you can download the full-length playbook or just the section(s) that are of most interest to you…but we're willing to bet that you'll want the whole thing!
A Health Care Partnership Playbook for Community Developers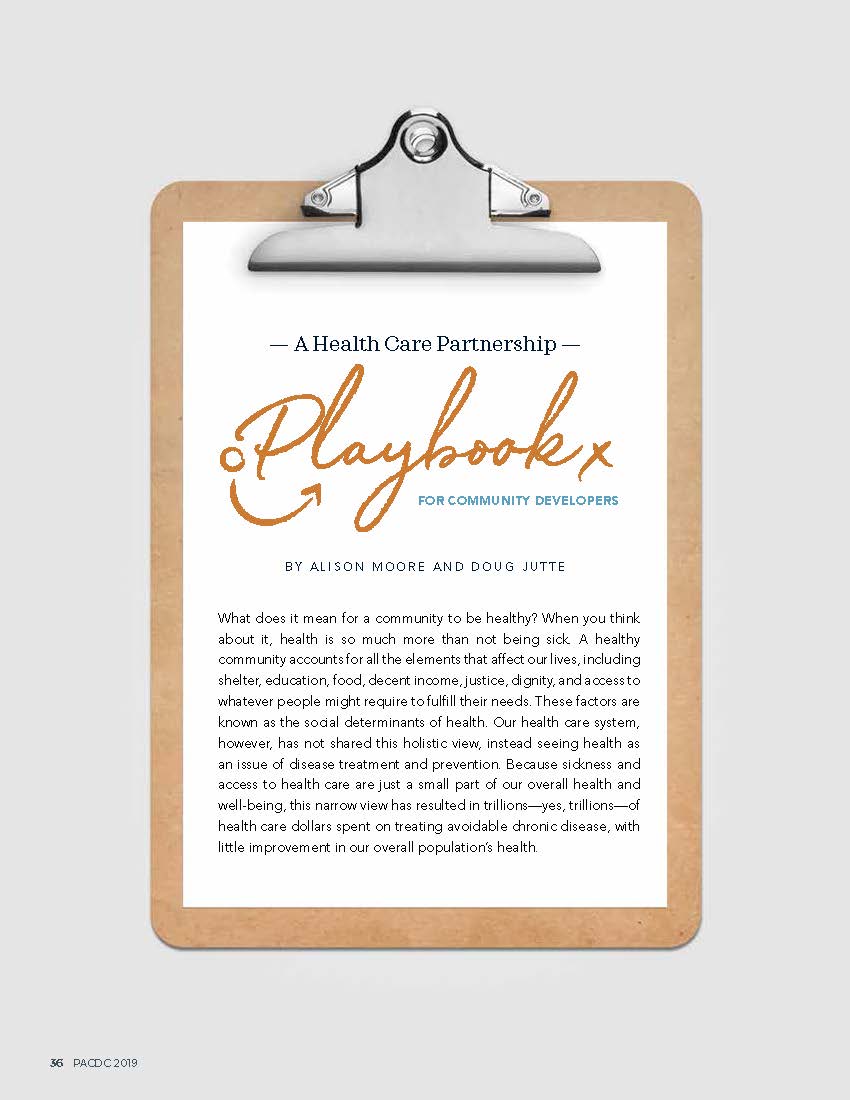 Partners: Philadelphia Association of Community Development Corporations and Build Healthy Places Network
A Health Care Partnership Playbook for Community Developers, an excerpted version of the longer playbook (Partnerships for Health Equity and Opportunity: A Healthcare Playbook for Community Developers) is a great introduction and can help guide community developers toward partnerships with hospitals and healthcare systems. Community developers can gain practical advice on navigating the vast healthcare ecosystem and create a road map for partnership. The authors note that they created the resource because they know that community development can be part of the answer to many of our most pressing population health and health equity challenges, and we couldn't agree more!
Lead-Safe Toolkit for Home-Based Child Care
Partners: Children's Environmental Health Network and the National Association for Family Child Care, with NCHH
Approximately one million child care professionals—many of whom are unaware of possible lead dangers in their homes' paint, dust, soil, water, and consumer products—provide care to three million children under the age of six in family home settings. The recently released Lead-Safe Toolkit for Home-Based Child Care helps to fill an important void in lead hazard control by equipping these providers to take action to reduce lead exposure in their child care settings. Designed with input from family child care providers (as well as a robust team of national lead poisoning experts) specifically for those providers, the toolkit offers free and low-cost practices and resources, curated by category, to help reduce lead hazards in their child care homes. A four-part webinar series beginning in February 2020 will help providers access and navigate the resources.
Making It Easy to Create Healthy Energy Efficiency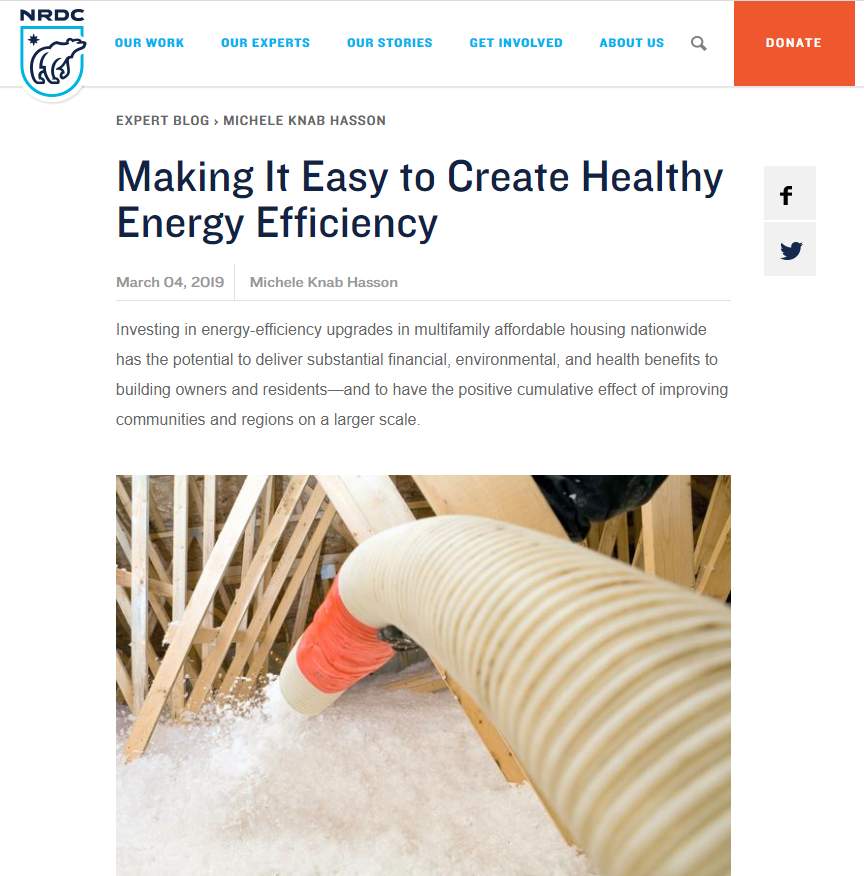 Partner: Energy Efficiency for All
Michele Knab Hasson's blog, "Making It Easy to Create Healthy Energy Efficiency," is packed with useful information about how to ensure that energy efficiency programs and policies meaningfully benefit the health of residents and keep harmful materials outside of homes, but it also contains links to several other resources. The tools highlighted in the blog help to underscore one of its key messages – that using healthy building materials is not only the right choice but, with the right guidance, can also be the easy choice.
Housing.Health
Partner: Cleveland Healthy Home Data Collaborative
Whether or not you live in Cleveland, Ohio, if you're interested in how to mobilize address-level data to equip residents, stakeholders, and policymakers in protecting residents from housing hazards (and we know that many of you are!), Cleveland Healthy Home Data Collaborative's Housing.Health is a tool worth checking out. You can enter an address and find property-specific information about the age of the structure, whether there are any known risks associated with lead, structural issues, or history of either open or closed housing violations, and other property characteristics. What's even better is that you can select more than one address to compare properties side by side! The initiative, funded by the BUILD Health Challenge, is grounded in neighborhood community engagement that enables physicians, public health officials, and the public to easily access collaborative, useful information to address health disparities—with a focus on asthma and lead poisoning. Geocoded housing data relevant to determinants of health is analyzed and prioritized to provide risk-stratified, place-based information. Value-added data from multisector sources is used for identifying lead-safe housing, determining patient risk for asthma, supporting public policy, and targeting public health programs.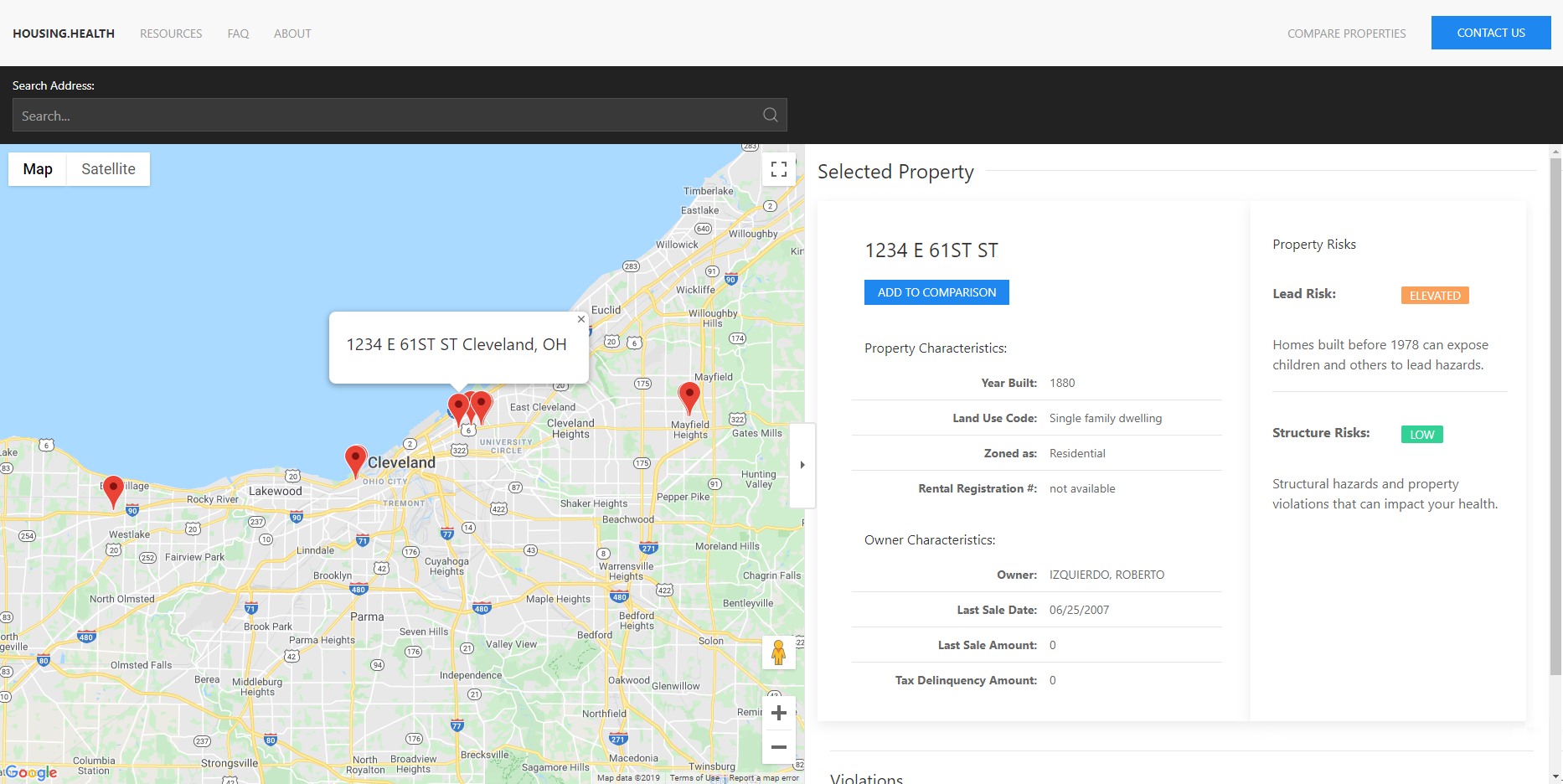 How States Promote Lead Screening and Treatment
Partner: National Academy for State Health Policy
If you have any reason to be interested in state-level policy, you should get to know the excellent resources developed by our colleagues at the National Academy for State Health Policy (NASHP), including How States Promote Lead Screening and Treatment. As an example, in 2019 they updated their maps that highlight the variety of strategies states use to promote lead screening and treatment for children and pregnant women. These maps feature current state policy levers that address lead exposure featured in NASHP's 2018 50-State Scan of State Health Care Delivery Policies Promoting Lead Screening and Treatment.* While you're there, check out their State Community Health Worker Models map that documents state activity to integrate CHWs into evolving health care systems in key areas such as financing, education and training, certification, and state definitions, roles and scope of practice.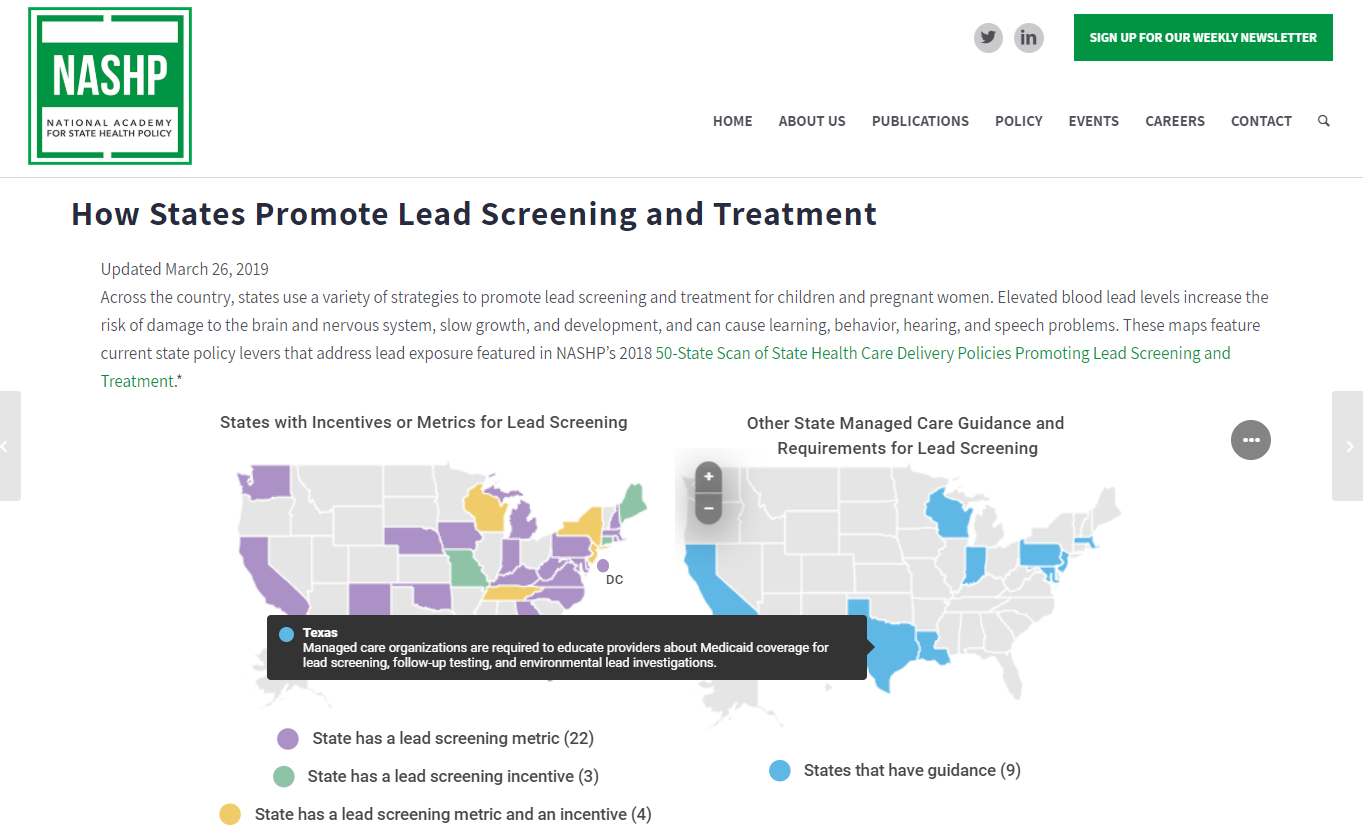 WHO Housing and Health Guidelines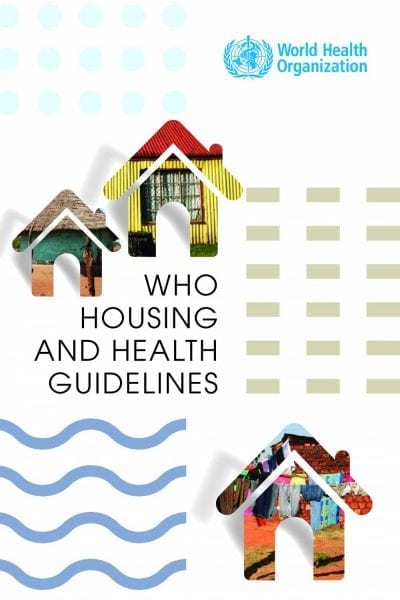 Partner: World Health Organization
Okay, so this last resource is another one that was technically released in 2018, but we have it on good authority that the WHO Housing and Health Guidelines official launch mostly took place in 2019, and we think it's a resource worth knowing about. The guidelines bring together the most recent evidence to provide practical recommendations to reduce the health burden due to unsafe and substandard housing. Based on newly commissioned systematic reviews, the guidelines provide recommendations relevant to inadequate living space (crowding), low and high indoor temperatures, injury hazards in the home, and accessibility of housing for people with functional impairments. In addition, the guidelines identify and summarize existing WHO guidelines and recommendations related to housing, with respect to water quality, air quality, neighborhood noise, asbestos, lead, tobacco smoke, and radon. The guidelines take a comprehensive, intersectoral perspective on the issue of housing and health and highlight co-benefits of interventions addressing several risk factors at the same time. The guidelines aim at informing housing policies and regulations at the national, regional, and local level and are further relevant in the daily activities of implementing actors who are directly involved in the construction, maintenance, and demolition of housing in ways that influence human health and safety. The guidelines therefore emphasize the importance of collaboration between the health and other sectors and joint efforts across all government levels to promote healthy housing.
We hope that you make a New Year's resolution to check out all of these amazing resources and to let us know any that we left out. While you're at it, make it another resolution to join the National Safe and Healthy Housing Coalition, or sign up for Leadnet or Healthyhomesnet so that you can stay connected to great partners like these throughout the next decade. We can't wait to see what our incredible partners do to advance the field of healthy housing in 2020!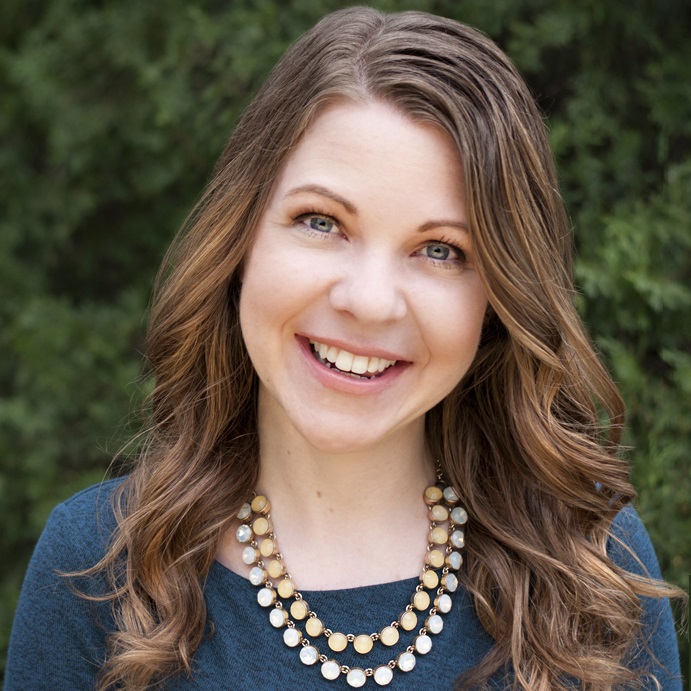 Amanda Reddy, Executive Director of the National Center for Healthy Housing, has advanced numerous initiatives, including those related to healthcare financing of healthy homes services, training and TA to support the launch and growth of sustainable healthy homes programs, and the development of indicators for the HUD Healthy Communities Index. Prior to NCHH, Ms. Reddy was a research scientist with the New York State Department of Health, where she provided program evaluation, management, and technical support for the Asthma Control, Healthy Homes and Lead Poisoning Primary Prevention, Healthy Neighborhoods, and Healthy Home Environments for New Yorkers with Asthma programs. Ms. Reddy holds an MS in environmental health from the London School of Hygiene and Tropical Medicine and a BA in neuroscience from Mount Holyoke College.