NCHH Drafts Executive Order for the Incoming Administration to Ensure Healthy Homes for All Americans
Media Contact: Christopher Bloom, cbloom@nchh.org; 443.539.4154
WASHINGTON, DC (December 14, 2020) – The National Center for Healthy Housing has authored a draft executive order, Ensuring Healthy Homes: Eliminating Lead and Other Housing Hazards, released this afternoon in partnership with the Day One Project, a DC-based organization "dedicated to democratizing the policymaking process by working with new and expert voices across the science and technology community."
The executive order will require that each federal agency "shall make it a high priority to identify, assess, remediate and prevent lead and other hazards in the home to eliminate childhood lead poisoning as a major public health problem by 2026" and ensure that each agency's "policies, programs, activities, regulations and standards address disproportionate risks to children that result from housing health and safety risks."
NCHH and the Day One Project urge President-Elect Biden to sign this executive order as one of his first official acts after his swearing-in as the 46th President of the United States on January 20, 2021.
The draft executive order is summarized below:
Over 23 million homes in America have significant lead paint hazards and more than 200,000 children have unsafe levels of lead in their blood. Lead poisoning causes significant decreases in math and reading scores and a host of other health problems, all of which are preventable.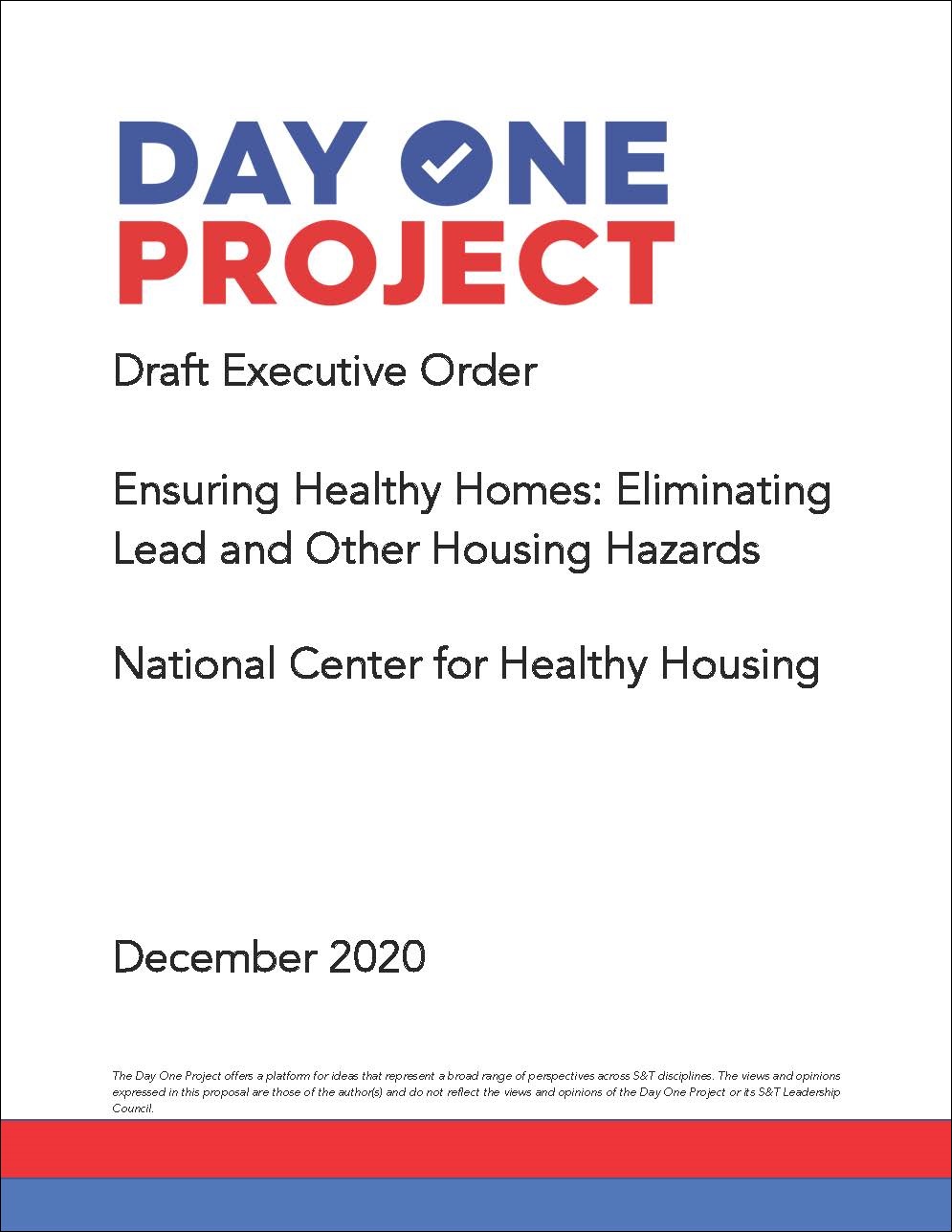 The urgent need for homes that support good health has never been clearer: the COVID-19 pandemic has meant more time in our residences, bringing healthy housing to the fore as a national priority. Inadequate housing conditions—such as exposure to lead paint, radon, mold and moisture, pest infestations, structural instability, and fire hazards—cause or exacerbate asthma, allergies, poisonings, falls and injuries, cancer, cardiovascular problems and other preventable illnesses. They needlessly burden our hospitals, schools, communities, and housing finance institutions, exacerbating the housing affordability crisis. Sustainable healthy housing is essential to economic vitality, climate change mitigation, and children's futures.
This Executive Order establishes a cabinet-level Presidential Task Force on Lead Poisoning Prevention and Healthy Housing to coordinate the nation's response to lead paint and other housing-related diseases and injuries under the Biden Administration. Led by the new Secretary of Housing and Urban Development, this Task Force will recommend new strategies, regulations, incentives and other actions that promise to conquer these avoidable problems. With strategic leadership and concerted action, the Task Force can eliminate childhood lead poisoning as a major public health problem and ensure that all American families have healthy homes.
Read the full draft executive order here.
###
The National Center for Healthy Housing (NCHH), based in Columbia, Maryland, is the preeminent national nonprofit dedicated to transforming lives by transforming housing. Since 1992, NCHH has served as a highly regarded and credible change agent, successfully integrating healthy housing advocacy, research, and capacity building under one roof to reduce health disparities nationwide.