A Few of Our Favorite Things: A Review of Key Healthy Housing Resources Created by Partners in 2020
by Amanda Reddy, Executive Director, National Center for Healthy Housing
For those of us celebrating holidays this month, the gifts have already been opened, but we'd like to wrap up 2020 by sharing a few of our favorite things. If you know anything about NCHH, you know that we do almost everything in collaboration and that our partners are at the very top of our favorite things list every year. This year, our partners—and the communities they serve—faced unprecedented challenges. Despite those challenges, and often in direct response to them, our partners have been busy producing incredible new tools and resources all year long. It is also worth noting that as we've all been worrying about the families sheltering in place in unsafe housing, there are also hundreds of thousands of families that are truly safer at home because of the decades of work our field has collectively done to create healthier and safer home environments. We are deeply grateful for and impressed by the sustained commitment and innovation of healthy housing professionals across the country and your critical role in making it possible for more people to be safe at home.
The tools highlighted below also inspired us in 2020 and we're certain that they're bound to become your new favorites too. We may have forgotten a few, but take a look at our favorites and then take a moment to tell us about some of your favorite new tools and resources from the last year!
Lead Pipes and Environmental Justice: A Study of Lead Pipe Replacement in Washington, DC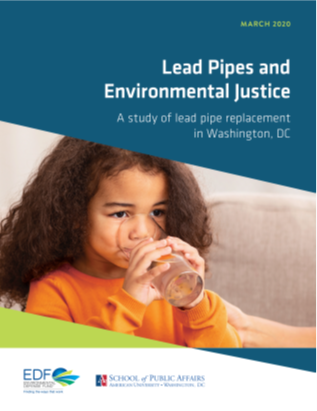 Partners: Environmental Defense Fund and the American University Center for Environmental Policy
Maintaining and rebuilding aging water infrastructure across the United States is essential to providing communities with safe drinking water. Regular infrastructure repair work, such as when a water main under the street is repaired, can disturb service lines, which poses an issue when the line is made of lead. The best approach to prevent lead from leaching into the water is to take special precautions when disturbing lead pipes and to fully replace the lead service line (LSL) to protect residents. Typically, water utilities expect households to pay to replace the portion of the LSL on private property to avoid a partial replacement, which can significantly increase short-term lead in water levels and fails to provide the long-term lead exposure reductions provided by full replacement. Since low-income households may be unable to pay, this practice raises health equity and environmental justice concerns. To evaluate these concerns, Environmental Defense Fund and American University's Center for Environmental Policy analyzed more than 3,400 LSL replacements (LSLRs) conducted in the District of Columbia between 2009 and 2018. In 2009, the District launched a program to promote full LSLR by streamlining the process for households as part of the utility's Capital Improvement Program to restore water mains. The program required the household to pay for the LSLR on private property but provided logistical support to the resident. Comparing data provided by the city's water utility with demographic characteristics, we found that the program had the unintended consequence of disproportionately impacting low-income and minority neighborhoods. The study saw similar impacts with a complementary program designed to support households proactively paying to replace their LSL, outside of infrastructure repairs (1,300 households participated).
Children's Environmental Health Network Anniversary Interview Series
Partner: Children's Environmental Health Network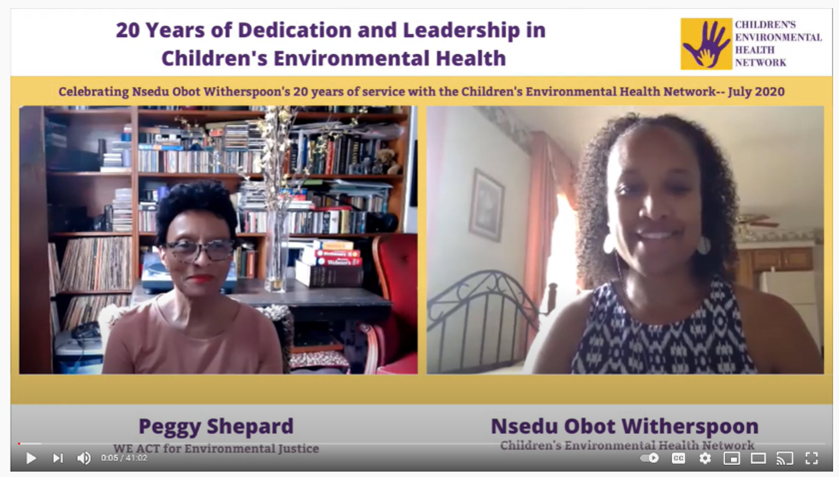 July marked Nsedu Obot Witherspoon's 20th anniversary with the Children's Environmental Health Network (CEHN). Nse has been celebrating this career milestone by hosting conversations with a different leader in the children's environmental health movement for every month during her 20th anniversary year, and the interviews are warm, insightful, inspiring, and definitely worth your time! The interview series (which you can view on CEHN's YouTube channel) has already featured leaders such as Peggy Shepard, Fred Brown, Dr. Linda Birnbaum, and Dr. Mona Hanna-Atisha and will continue into 2021. If you check out October's interview, you might also see a familiar face from the healthy housing field!
COVID-19 Housing Policy Scorecard
Partners: The Eviction Lab and Emily A. Benfer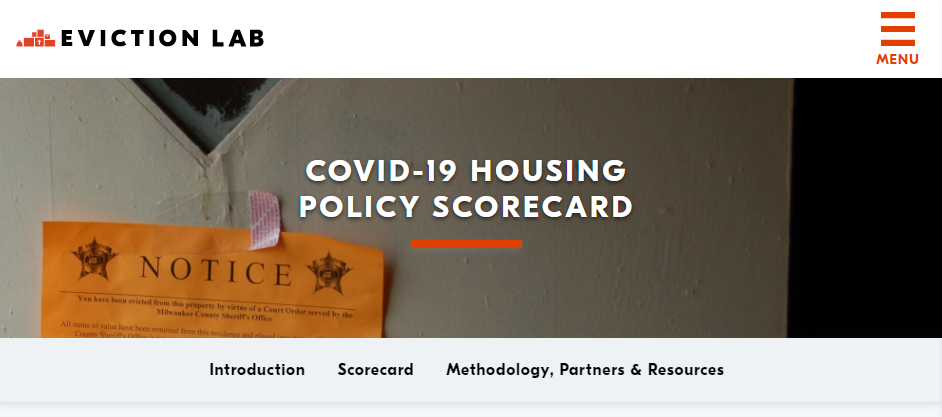 Safe, stable, and decent housing has always been central to ensuring health and stability. Today, with the United States focused on containing the COVID-19 pandemic, the broader and longstanding issue of income and housing insecurity has quickly become paramount to the health of an entire nation. The Eviction Lab and Emily A. Benfer, Professor at Wake Forest University Law School, have developed the COVID-19 Housing Policy Scorecard to distill the contents of thousands of emergency orders, declarations, and legislation into a clear set of critical measures included in, and left out of, state-level pandemic responses related to eviction and housing. Whether you're a healthy housing practitioner, an affordable housing advocate, or a public health professional, this work is essential to all who understand the connection between housing and health.
While we're here, be sure to check out Ms. Benfer's recent article in the Journal of Urban Health, "Eviction, Health Inequity, and the Spread of COVID-19: Housing Policy as a Primary Pandemic Mitigation Strategy."  
Better Lead Policy
Partner: Earthjustice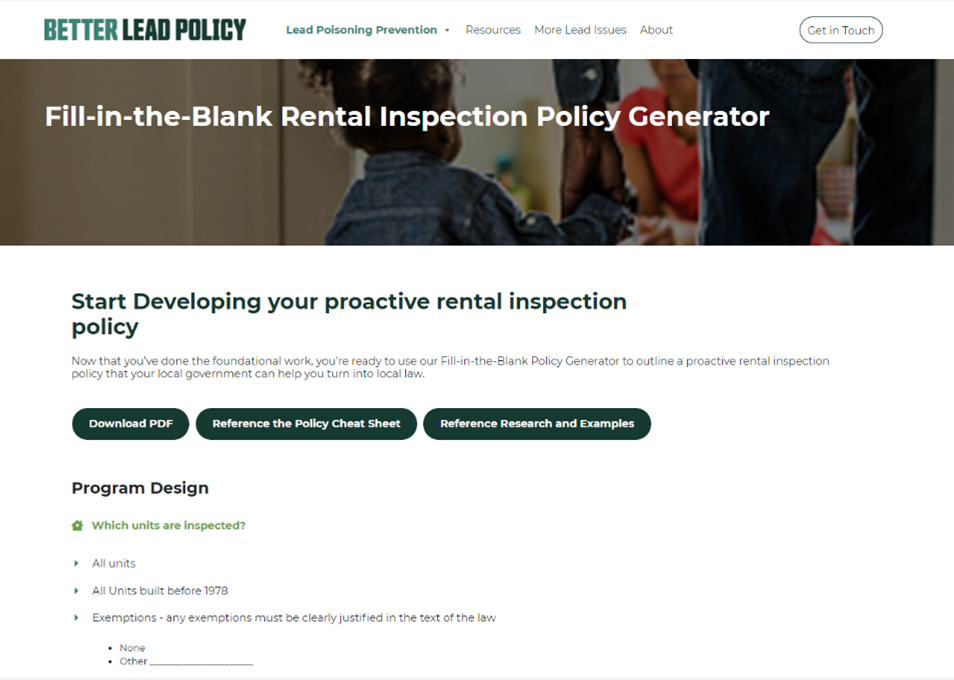 Our colleagues at Earthjustice designed this easy-to-follow guide to help you understand policies that can prevent lead poisoning so you can adopt and improve lead poisoning policies in your community. You can fill out a policy worksheet to help you start to build a proactive rental inspection (PRI) policy that is right for your community, access a cheat sheet to help guide your decision-making, take a deeper dive into different aspects of PRI programs, and more.
Virtual Healthy Homes Toolkit
Partner: Green & Healthy Homes Initiative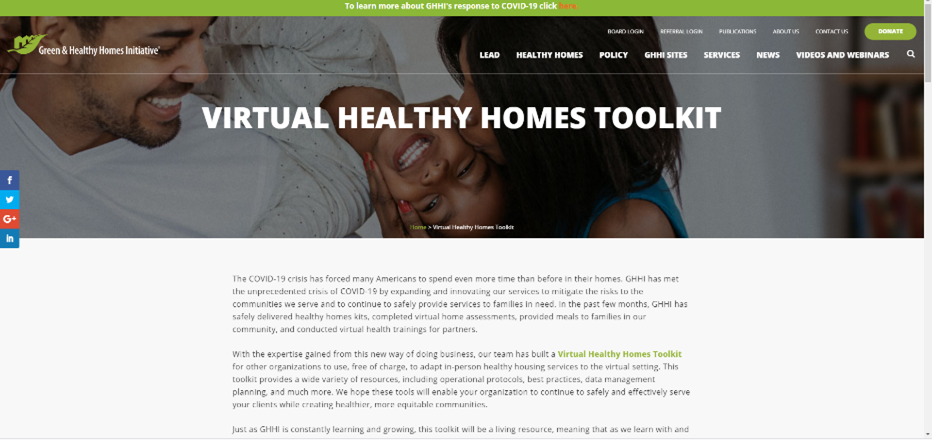 As the COVID-19 crisis forced many Americans to spend even more time in their homes, our colleagues at the Green & Healthy Homes Initiative (GHHI) have expanded and innovated their services to mitigate the risks to the communities they serve and to continue to safely provide services to families in need. During the pandemic, GHHI has safely delivered healthy homes kits, completed virtual home assessments, provided meals to families in our community, and conducted virtual health trainings for partners. With the expertise gained from this new way of doing business, GHHI built the Virtual Healthy Homes Toolkit for other organizations to use, free of charge, to adapt in-person healthy housing services to the virtual setting. This toolkit provides a wide variety of resources, including operational protocols, best practices, data management planning, and much more. We hope these tools will enable your organization to continue to safely and effectively serve your clients while creating healthier, more equitable communities.
Gas Stoves: Health and Air Quality Impacts and Solutions
Partners: Rocky Mountain Institute, Physicians for Social Responsibility, Mothers out Front, and Sierra Club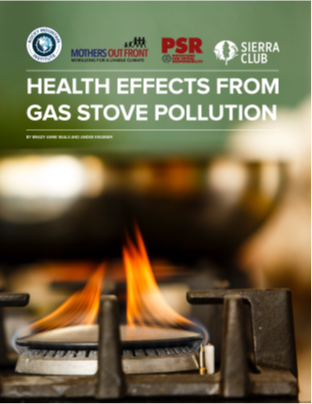 Across the United States, millions of homes and apartments rely on gas appliances for heating and cooking. Burning gas in buildings is not only a threat to climate action but also to human health, as these appliances are sources of indoor air pollution. Gas stoves, particularly when unvented, can be a primary source of indoor air pollution. What's more, a robust body of scientific research shows the pollutants released by gas stoves can have negative health effects, often exacerbating respiratory conditions like asthma.
Despite this growing body of evidence, indoor air pollution remains largely unregulated. In Health Effects from Gas Stove Pollution, experts from the Rocky Mountain Institute, Physicians for Social Responsibility, Mothers out Front, and Sierra Club synthesize the last two decades of research and offer recommendations for policymakers, researchers, healthcare professionals, and the public to work to swiftly to mitigate the health risks associated with gas stoves. As the authors note, air pollution is preventable, and this provides healthy homes professionals another opportunity to improve indoor air quality for the residents they serve.
The State of the Nation's Housing 2020
Partner: Joint Center for Housing Studies of Harvard University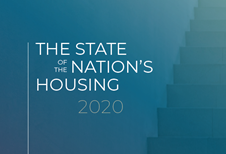 Although Harvard's State of the Nation's Housing report is worth checking out every year, the COVID-19 pandemic, a powerful movement for racial justice, and the devastating impacts of climate change have combined to bring the nation's longstanding housing challenges to the fore. The economic crisis has worsened rental affordability challenges and put homeowners at risk of foreclosure, widespread calls for racial justice have pointed out sharp disparities in access to decent affordable housing, and a series of powerful hurricanes and raging wildfires have shown how vulnerable the country is to the impacts of climate change. However, historically low interest rates, strength in the for-sale market and in homebuilding could lead a broader U.S. economic recovery. And if your inbox is overflowing with items to read, there's also a video of the report findings that you can listen to.
Cleveland's Lead Safe Resource Center
Partner: Lead Safe Cleveland Coalition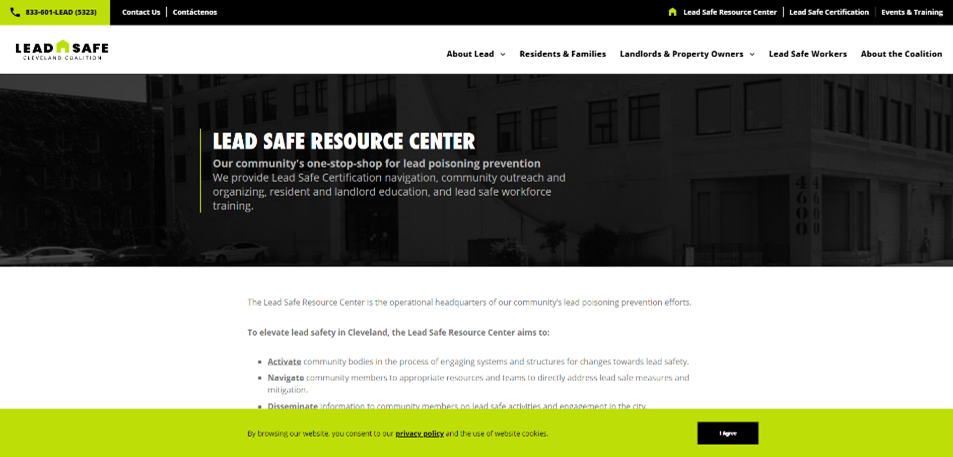 The partners that make up the Lead Safe Cleveland Coalition are working on many fronts to eliminate childhood lead poisoning prevention. They launched the Lead Safe Resource Center this year as a one-stop shop for lead poisoning prevention. The resource center provides information and tools regarding Lead Safe Certification navigation, community outreach and organizing, resident and landlord education, and lead safe workforce training. Residents can access information online, via a hotline, or in-person…and they managed all of this while navigating the challenges and changing landscape of an ongoing pandemic!
Tribal Lead Curriculum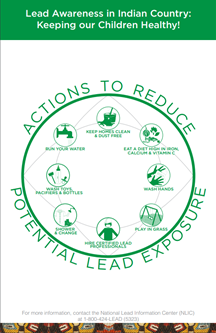 Partner: U.S. Environmental Protection Agency
The Lead Awareness in Indian Country: Keeping our Children Healthy! curriculum is a robust set of educational tools that provide practical, on-the-ground, community-based resources to reduce childhood lead exposure in tribal communities. The curriculum, designed in collaboration with over 200 tribal partners, creates a starting point to hold informed conversations within communities to teach parents and caregivers about lead. The curriculum also empowers individuals to act within their own homes to protect their children and communities from potential lead exposure. I'll confess that I haven't had time to check this out yet, but I'm glad it exists and look forward to learning more about it in 2021!
The Planner's Playbook: A Community-Centered Approach to Improving Health and Equity
Partner: ChangeLab Solutions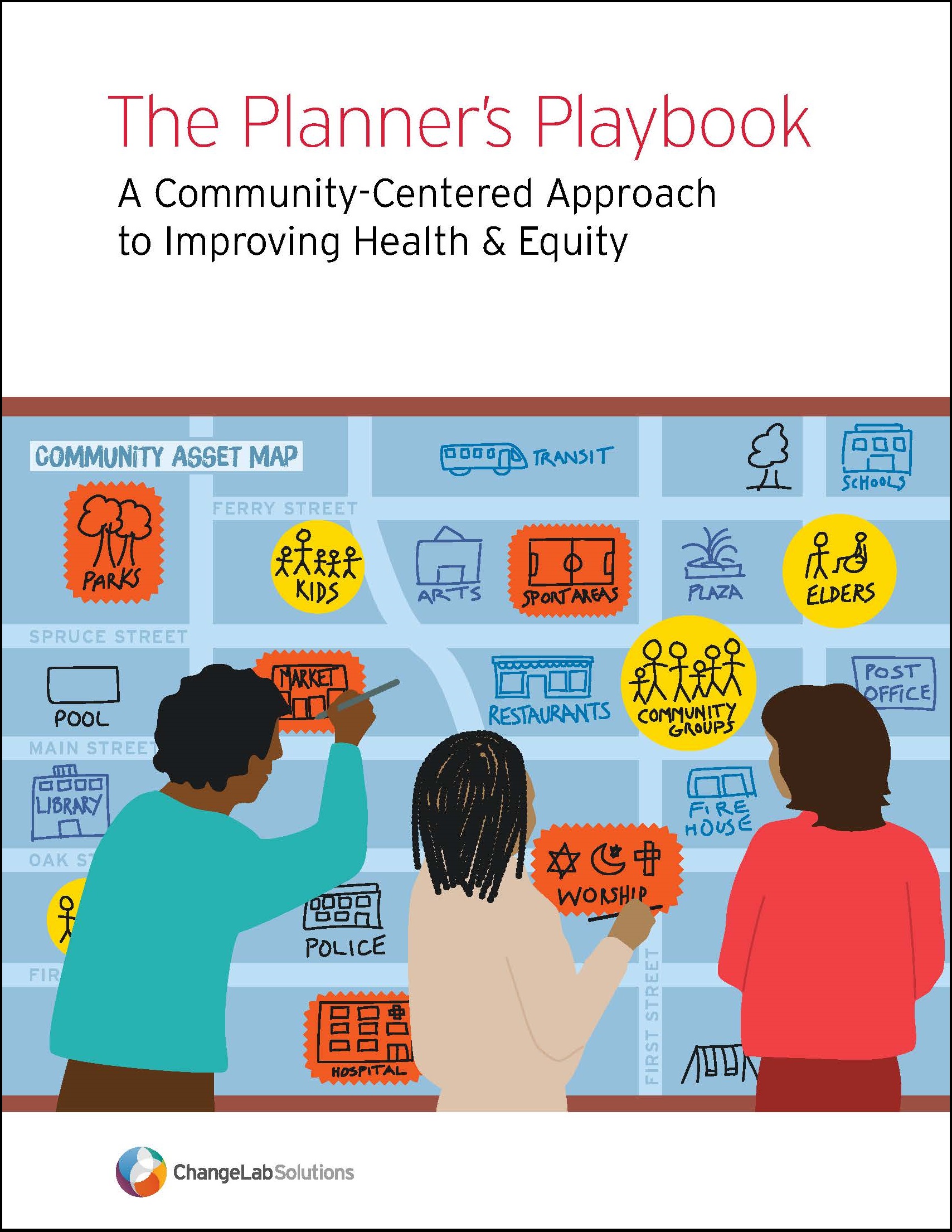 Planning affects all aspects of our lives; it shapes our opportunities and guides how communities prioritize competing interests. But planning does not treat all people equitably.
Planning practices have played a central role in creating and perpetuating discrimination that has contributed to a growing divide in health equity, often along racial and economic lines. Although past planning practices have helped create inequities, planners today have the power to help solve them, promoting a just society in which every person can thrive and reach their full potential.
To become part of the solution, planners need a new set of practices and tools to equitably engage communities in developing plans that disrupt patterns of structural disadvantage. The Planner's Playbook: A Community-Centered Approach to Improving Health and Equity offers guidance, providing resources, concrete steps, and examples for planners who wish to center equity in their planning practice so that their communities promote opportunity and prosperity for all.
The Toxic Truth: Children's Exposure to Lead Pollution Undermines a Generation of Future Potential
Partners: UNICEF and Pure Earth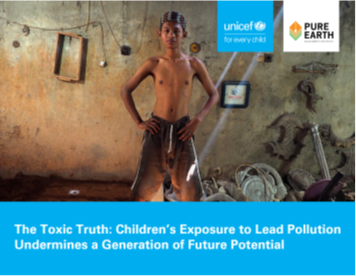 Many of us spend our time fighting to eliminate lead poisoning prevention in communities around the country. The Toxic Truth calls attention to the issue of childhood lead poisoning globally, noting that around one in three children – up to 800 million – has blood lead levels at or above 5 micrograms per deciliter (µg/dL) and documenting the destructive effects on infants and children around the world. The report also issues a call for additional research and for immediate and decisive action to end this preventable exposure.
A Toolkit for Centering Racial Equity Throughout Data Integration
Partner: Actionable Intelligence for Social Policy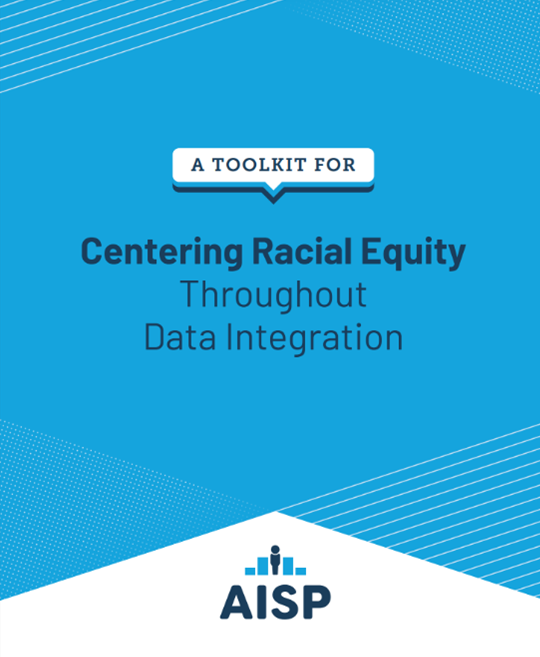 The authors of A Toolkit for Centering Racial Equity Throughout Data Integration make the case that just like investments in railroads and highways both developed and decimated communities, the choices we make about how we collect, analyze, report on, and use data can too. They note that we have an opportunity (and I would argue a moral obligation) to co-create a data infrastructure that promotes racial equity and the public good and offer a roadmap for how to center racial equity and support power sharing in the way that we collect and use data.
Justice in June
Compiled by Autumn Gupta and Bryanna Wallace

Understanding and stepping into our role as anti-racists, whether as individuals, organizations, or an entire field, is a journey. I trust that if you're reading this blog, you're on that journey too. Here at NCHH, we've been reflecting a lot on how much of the work we do is necessary because of systemic racism and how although we have evidence about how we can mitigate the effects of racist housing policy, we know much less about how to dismantle the systems that perpetuate them. So we know we have to do a lot of learning and listening over the coming months and years, and what I particularly like about this resource is that it reinforces two points. First, nobody is too busy to engage in this work. If you can find 10 minutes a day to scroll through your social media, you have time to become informed, activated, and to step up your game as an ally. Second, this is an ongoing, lifelong process of learning, growing, and acting. I could have picked any number of videos or podcasts or books or blogs to highlight here, but the reality is that we can't read a single book, scan a single report, or watch a single movie and end the year thinking that our work is done. There are many excellent resources not captured here, but the point of Justice in June, and why I chose it, is to create a habit of ongoing learning that will lead us as individuals, as organizations, and as the healthy housing field to know better and do better as we work for racial justice.
We hope that you make a New Year's resolution to check out all of these amazing resources and to let us know any that we left out. While you're at it, make it another resolution to join the National Safe and Healthy Housing Coalition, sign up for Leadnet or Healthyhomesnet, or join one of our Twitter chats throughout the year so that you can stay connected to great partners and hear about amazing resources like these throughout the next decade. If you missed last year's post, check it out here. We can't wait to see what our incredible partners do to advance the field of healthy housing in 2021!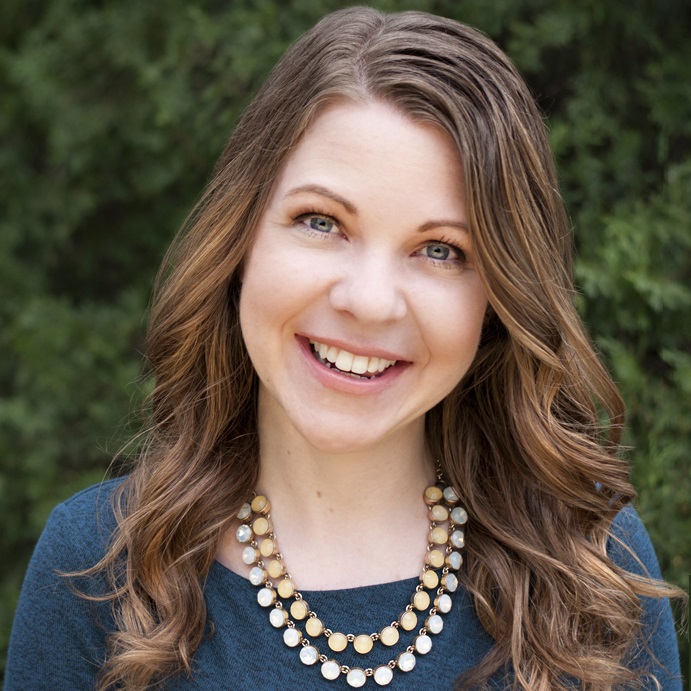 Amanda Reddy, Executive Director of the National Center for Healthy Housing, has advanced numerous initiatives, including those related to healthcare financing of healthy homes services, training and technical assistance to support the launch and growth of sustainable healthy homes programs, and the development of indicators for the HUD Healthy Communities Index. Prior to NCHH, Ms. Reddy was a research scientist with the New York State Department of Health, where she provided program evaluation, management, and technical support for the Asthma Control, Healthy Homes and Lead Poisoning Primary Prevention, Healthy Neighborhoods, and Healthy Home Environments for New Yorkers with Asthma programs. Ms. Reddy holds an MS in environmental health from the London School of Hygiene and Tropical Medicine and a BA in neuroscience from Mount Holyoke College.