Healthy Household 101:
Why Consumers Should Understand the Basics of the RRP Rule
by Christopher Bloom
Having a place to call your own has been part of the American dream since long before there was an "America," and updating or improving homes feels like it's been part of that dream nearly as long. When the money's available to make things just a little better, many Americans will jump at the opportunity to remake and remodel, but there are often dangers involved—electrical shock, gas leaks, and collapsing walls are all potential pitfalls that come to mind. That's why it's important to hire contractors who are trained to perform the work on your home safely and masterfully, contractors who will haul away your old eyesores and headaches in a dumpster without leaving new ones behind.
This is also where housing codes and inspections come in: An inspector from your county, city, or state government visits your home and makes sure that the work your plumber or electrician has followed the code. (It's important to note that codes don't necessarily address every healthy homes issue, however.) And what if your home requires special attention? What if there's a problem that the inspector can't see, one that you can't see either? Your dream remodel might turn into a nightmare for you and your family.
If your home was built before 1978, one such nightmare could be that the contractor you hired to beautify your kitchen or replace your windows (for example) has unwittingly spread toxic lead dust all over your home, and the damage caused to your young children may be irreversible. If only you'd known what to look for? If only you'd known about the "RRP Rule."
What's RRP?
"RRP" stands for renovation, repair, and painting—three ways a worker can spread lead inside or around a building.
Renovation refers to major changes to a space, such as tearing out an old kitchen or bathroom and replacing nearly everything.
Repair focuses on correcting a small problem.
Painting is a surface-level improvement.
Unfortunately, these types of jobs have a potential to disturb lead-based paint in homes built prior to 1978—so much that the U.S. Environmental Protection Agency (EPA) was tasked in 1992 with creating a regulation in order to curb lead exposure.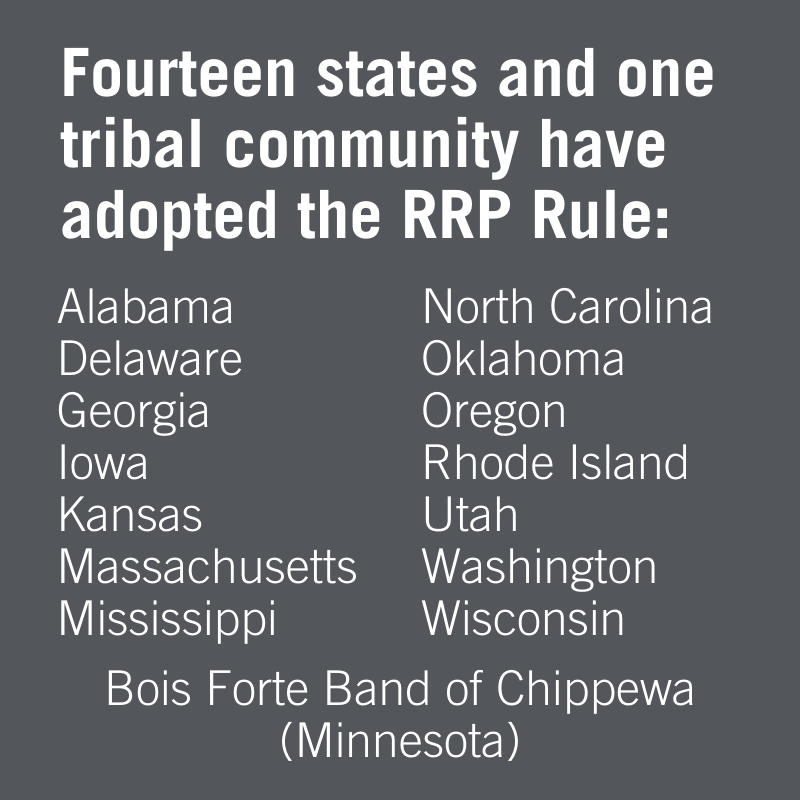 After more than a decade of political debate, the resulting regulation, the "RRP Rule," as it's come to be called, was issued by the EPA on April 22, 2008, and became effective two years later. Under the rule, contractors performing renovation, repair, or painting work that disturbed lead-based paint, varnish, or shellac in any residential structure (or child-occupied facility, such as a school or day care) must follow basic procedures to control the spread of lead dust and debris that break loose as a result of construction work. The RRP Rule requires the construction firm to keep detailed records of their work, including which clients' homes did and did not have lead-based paint. Furthermore, the contractors are required to distribute an EPA booklet called Renovate Right to their clients and have their clients sign a receipt that the booklet was distributed.
The EPA hoped that each state would adopt and enforce the RRP Rule; in states where this didn't come to pass, they would handle the enforcement themselves. It sounds great, but there are multiple problems with this program:
Only a handful of states actually adopted some version of the RRP Rule, meaning that they oversee the certification of renovation workers and enforce the regulation. (See the infographic.) The other 36 states view RRP enforcement as the federal government's job, not theirs.
Most municipalities don't check for RRP certification as a requirement for a building permit, and their code inspectors aren't usually checking to verify that lead-safe work practices are being followed.
If, in the course of an audit, the EPA discovers that a renovation firm isn't following the rule, that company would be ordered to stop work immediately and clean up their mess, and the EPA would issue them a fine. However, in most cases, the EPA's RRP investigations come as a result of tips from consumers, which means that a consumer would actually have to know what an RRP violation looked like.
It's safe to assume that most consumers would rather avoid the hassle of an investigation and the heartbreak of lead poisoning by simply choosing a responsible renovation firm in the first place.
To be able to spot a potential violation, you need to know a little bit about lead-safe work practices, so let's discuss the basics of RRP.
The Basics
The basics of effective lead-safe renovation work can be divided into three main categories, which we'll describe below.
Containment: Containment involves preparing the work area in such a way that dust particles released during construction work aren't able to drift from the construction area to other parts of the home. This is accomplished by covering vents and enclosing rooms with thick plastic sheets. Since it's very difficult to avoid flaking some lead paint away during construction work, the plastic sheets are essential in keeping the lead dust confined to one area.
Minimize dust: As we stated previously, it's nearly impossible to ensure that no dust is created during renovation work; however, there are ways to limit how much dust is created during the work and where it goes, such as "wet scraping" surfaces instead of sanding them. The less dust, the likely it is to migrate from one place to another.
Thorough cleanup: Yes, homes generally look clean after the work is finished—that's part of the allure—but we're talking about cleanliness on a microscopic level, because there is often lead dust present even when we can't see it. All areas should be cleaned thoroughly with a HEPA vacuum in good working order (meaning that not only is the vacuum operational but the filters are cleaned or replaced regularly), followed by wet wiping or mopping.
Once the work is complete and the area has been cleaned by the contractor, there's an optional step: a third-party verification process where a dust sampling technician will test for the presence of lead dust. If the amount of lead dust exceeds a certain level, the renovation company must clean again.
Spotting and Reporting Violations
As a property owner who's hiring a company to work in your home or a renter whose landlord or property manager has engaged a contractor to repair the apartment or home you're renting, you probably don't have the time to become an expert in lead-safe work practices; however, here are a few quick ways to tell if a violation has happened or could happen.
You know the property was constructed before 1978, but the contractor doesn't ask about lead-based paint.
You know the property was constructed before 1978, but no one from the construction company gives you a copy of the EPA  Renovate Right booklet. Speaking of Renovate Right, there's no reason why you can't download it now and familiarize yourself. Click the name anywhere in this post to access a copy.
You ask to see the worker's RRP certificate, and they don't know what you're talking about or can't produce one. Note that there are technically two certificates, one that lists the business and its EPA registration number and one that actually includes the name and a photo of the project supervisor. This person is required to be onsite during setup, demolition, and cleanup.
The construction crew doesn't set up any plastic sheets to contain their work area. The video below, On-the-Job Training: RRP Lead-Safe Practices (hosted by Bill Robinson, a highly respected RRP trainer and NCHH partner), is intended for workers but will also give you an idea of what to expect when the crew starts setting up. If there's lead-based paint on the property, you should see a lot of plastic going up, curtains or blinds coming down, and furniture moving out of the work area.
If you find yourself in any of these situations, start asking questions and don't be shy about it. If you feel that lead-safe work practices aren't being followed, the EPA recommends the following actions:
Order the contractor to comply with the regulation,
Call your local health or building department, or
Report the violation to EPA's hotline at the National Lead Information Center, 1-800-424-LEAD (5323).
There is no "safe" level of lead in blood, and the damage caused is permanent, so make sure the contractor you hire is taking the necessary precautions to keep your home safe.
NCHH Resources for Lead
Want to promote lead poisoning awareness, learn more about government policies concerning lead, see how NCHH is studying lead, or simply learn more? Visit any of NCHH's lead-related pages and resources below.
Other Resources for Lead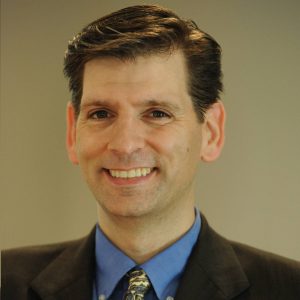 Christopher Bloom is NCHH's communications and marketing manager. He joined NCHH in 2008 after nearly a decade in the real estate industry. In a previous role at NCHH, he coordinated a national Renovation, Repair, and Painting (RRP) training program, one of the most successful in the nation. He holds a Bachelor of Arts degree in English Textual Studies from Syracuse University.