Healthy Household 101:
Making the Most of Your Spring Cleaning
by Christopher Bloom
Believe it or not, spring is right around the corner (March 20 officially), and after a year of being tucked away in our homes, the words "spring cleaning" have never felt so…necessary.
Spring is more than just a time for sweeping, vacuuming, wiping surfaces, and washing things—you've probably been doing that all along. Spring is also a time for home repairs and general maintenance. Between socially distanced school and work days, plus 52 straight weekends in with the family, we'll bet a lot of homes out there are in need of more than a little sprucing up.
But where to start?
A Tool to Help
Why not let us help you with your maintenance and repair projects? Before you get too excited, no, we're not coming to your home. First, there's a pandemic, so we're going to stay over here. Second, we need to clean, maintain, and repair our own homes right now. Instead, let us direct you to two helpful resources we've prepared to guide you.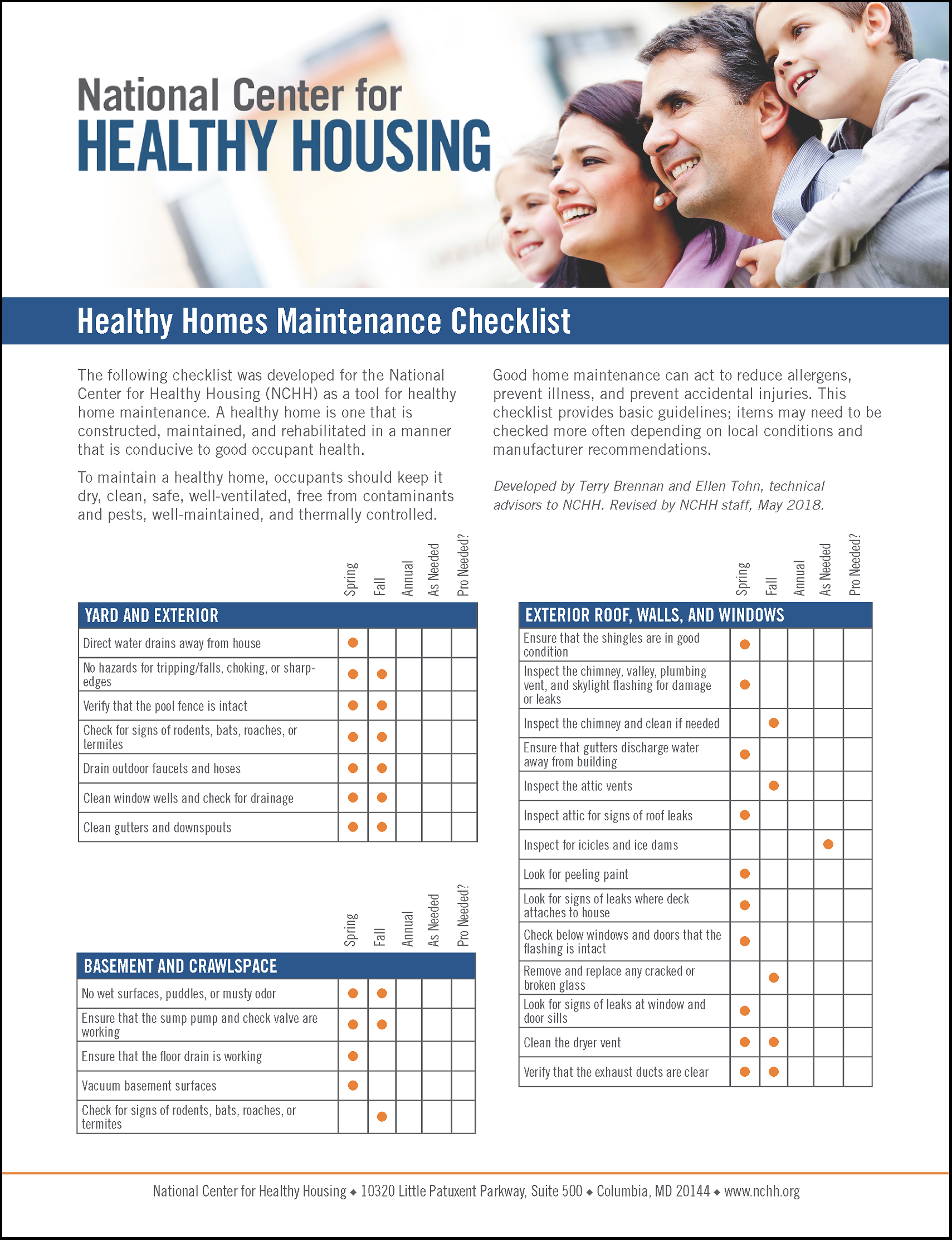 The first resource is the Healthy Homes Maintenance Checklist, a great tool for homeowners, landlords, and renters alike. This checklist groups various repairs by room so you can inspect for several potential problems all at once. Not every maintenance task can or should be performed at any time, however; so we've also noted the optimal season for tackling it. Also, while some of you are fairly handy, some of you may not feel so confident in your abilities, so we've also noted whether a trained contractor's services are recommended.
You may want to mark your checklist with a highlighter, using different colors for each spring, summer, fall, and winter to focus only on the optimal tasks for this season.
There are the obvious maintenance items, of course. Daylight savings time begins this Sunday, March 14, so that's a great time to replace the batteries in your smoke and carbon monoxide alarms—a task you definitely shouldn't ignore—or consider installing new units. (NCHH's Jonathan Wilson examined smoke alarms and CO detectors comprehensively here.)
Keep It Clean, but Do It Safely
When the COVID-19 pandemic hit, families all across the U.S. stocked up on paper goods and disinfectants, and we as a nation collectively scrubbed everything down to limit the spread of the virus. Unfortunately, many people used their cleaners and disinfectants improperly, which resulted in a major spike in calls to poison control centers. Even without a pandemic, there are still far too many accidental exposures to cleaning products, which is why NCHH and the National Environmental Health Association (NEHA) developed the Healthy Homes Guide to Cleaning and Disinfection, a free online resource that provides expert guidance about how to clean safely, the importance of proper ventilation, and how to go about reopening facilities that have been closed for a prolonged period.
Whether or not we're battling a deadly virus, it's still very important to clean surfaces regularly and properly to remove or reduce germs, allergens, and, in some homes, dust from lead-based paint. And while it seems like the right thing to do, you don't actually have to disinfect everything.
It's Too Expensive to Fix My Home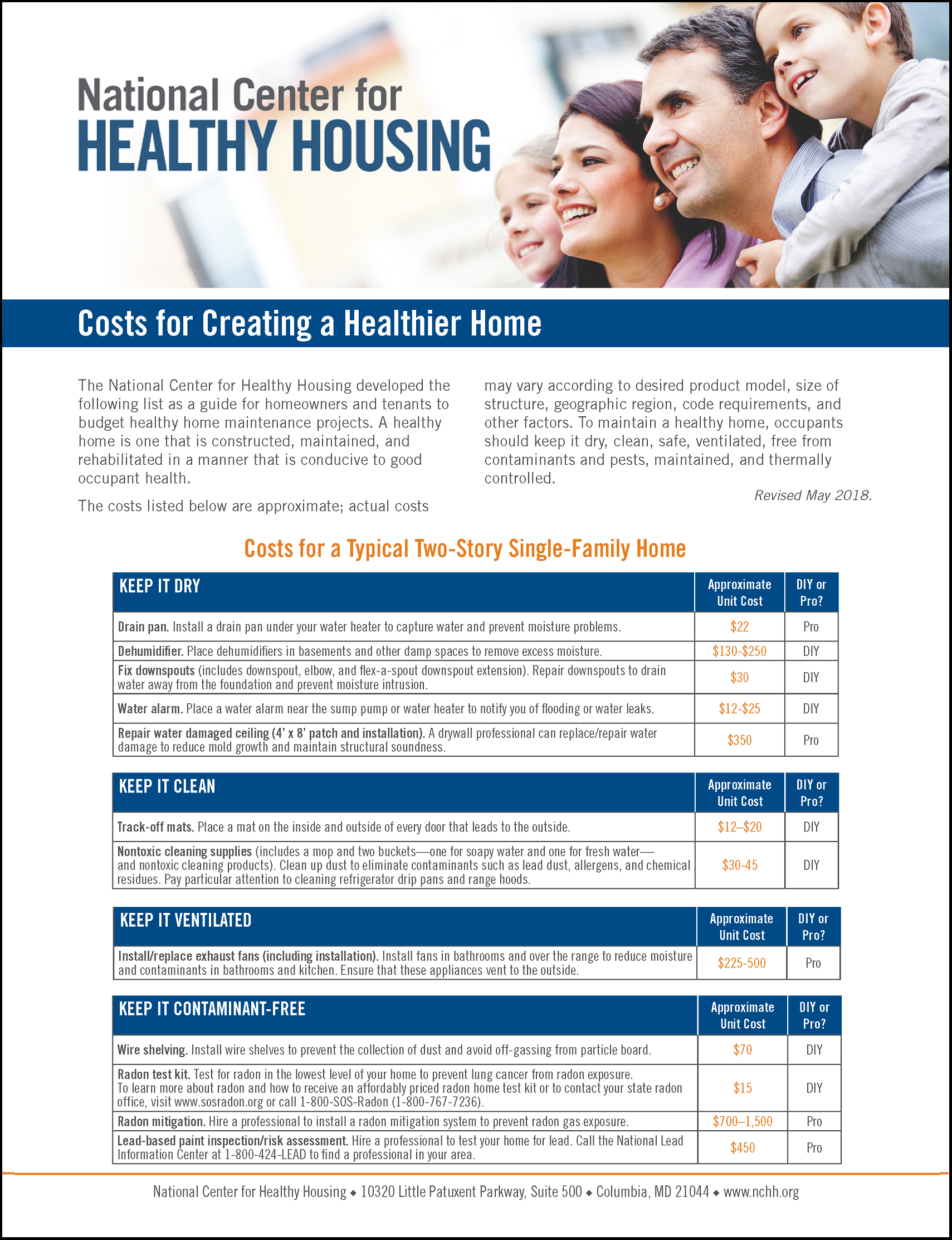 Our third resource, Costs for Creating a Healthier Home, is helpful because it lists the approximate costs for many common home repairs and maintenance. Instead of rooms, Costs for Creating a Healthier Home is divided into sections that align with the principles of a healthy home: keep it dry, safe, clean, and so forth. Like our maintenance checklist, this resource also lets you know whether these fixes are easily handled yourself or if you'd be best served by calling a pro. You'll note that most proactive maintenance and repair costs are actually very affordable, and we'd like to draw your attention to a few oft-ignored but essential projects you should consider this spring:
Fix downspouts: $30 (includes downspout, elbow, and flex-a-spout downspout extension). Repair downspouts to drain
water away from the foundation and prevent moisture intrusion. So many mold and pest problems can be avoided completely simply by directing water away from your home.
Radon test kit: $15. Test for radon in the lowest level of your home to prevent lung cancer from radon exposure. If you read our blogs on radon back in January, you understand how important it is to know what you and your family are breathing. Radon is an odorless, colorless gas that can be detected in virtually every home. It's also the number two cause of lung cancer in the U.S.
Window blind cord safety device: $5-$10. Install these devices on all mini blinds to prevent children from strangulation
in blind cord loops. Everyone thinks it'll never happen to their kids, but it's happened enough that we added it to our list. And if you could potentially prevent a tragedy by installing a $10 part, you'd do it, right?
Seal ducts: $50-$150. If you have a forced-air heating/cooling system, check for gaps/leaks in the ductwork. Seal with mesh/mastic so conditioned air gets to the rooms where you need it. This measure costs a little more upfront, but you'll save money in the long run by heating your rooms instead of your attic, garage, or crawl space.
You say it's too expensive to fix your home? It's too expensive not to fix your home! We know that some home improvements can be pricey, but home hazards don't go away on their own, and if you can correct a little problem before it becomes a big problem, so much the better for your health and your bank account. Even if you're feeling a little tight right now, it's in your interest to at least make the improvements that you can afford, however insignificant they may seem at the time. Once you've checked them off your list, you won't have to worry about them again for a very long time.
So, throw on a sweatshirt and examine the in- and outsides of your home in a different way. And if you have kids, get them to help. They're probably around.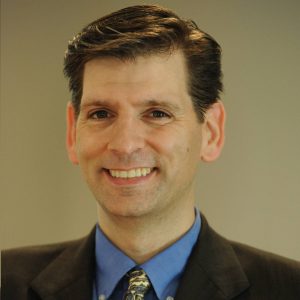 Christopher Bloom is NCHH's communications and marketing manager. He joined NCHH in 2008 after nearly a decade in the real estate industry. In a previous role at NCHH, he coordinated a national Renovation, Repair, and Painting (RRP) training program, one of the most successful in the nation. He holds a Bachelor of Arts degree in English Textual Studies from Syracuse University.