June Is National Healthy Homes Month
Media Contact: Christopher Bloom, cbloom@nchh.org; 443.539.4154
COLUMBIA, MD (May 31, 2023) —  Returning tomorrow is one of the nation's most important awareness campaigns. National Healthy Homes Month (NHHM), created by the U.S. Department of Housing and Urban Development's (HUD) Office of Lead Hazard Control and Healthy Homes (OLHCHH), is an outreach campaign designed to help people connect the dots between their health and their home. This year's overarching theme, "Connecting Home, Health, and YOU," underscores HUD's goal of highlighting the key roles played by OLHCHH grantees and their contributions to their communities.
In the U.S. today, people spend close to 90% of their time indoors, so healthy homes are important to homeowners, renters, older adults, children, and others regardless of race, income, education, or social status. National Healthy Homes Month focuses on the importance of home assessments and the impact awareness can have on your health and to empower people to make change in order to create the healthiest home possible for themselves and their family.
Currently, millions of U.S. homes have moderate to severe physical housing problems, including dilapidated structure; roofing problems; heating, plumbing, and electrical deficiencies; water leaks and intrusion; pests; damaged paint; and high radon gas levels. These conditions are associated with a wide range of health issues, including unintentional injuries, respiratory illnesses such as asthma and radon-induced lung cancer, and lead poisoning. The health and economic burdens from preventable hazards associated within home are considerable and cost billions of dollars.
Since its founding nearly 30 years ago, OLHCHH has not only emerged as the national hub for lead mitigation and removal and a provider of grants to states, tribes, and local communities but also as a leading source of information about indoor environmental health hazards, especially lead poisoning. Their National Healthy Homes Month was established to focus national attention on ways to keep people of all ages safe and healthy in their home. It is aimed at boosting awareness and understanding of what federal and local resources are available. The events planned throughout the month serve as a public communications campaign to promote awareness and advocacy, encourage local events, and provide resources and support to drive families to take action.
HUD OLHCHH has developed a National Healthy Homes Month digital resource toolkit for 2023, which contains many online digital resources and materials to assist with building awareness and implementation at the local level. The toolkit is available for download from both HUD's website and via NCHH's dedicated National Healthy Homes Month webpage.
How NCHH Is Supporting National Healthy Homes Month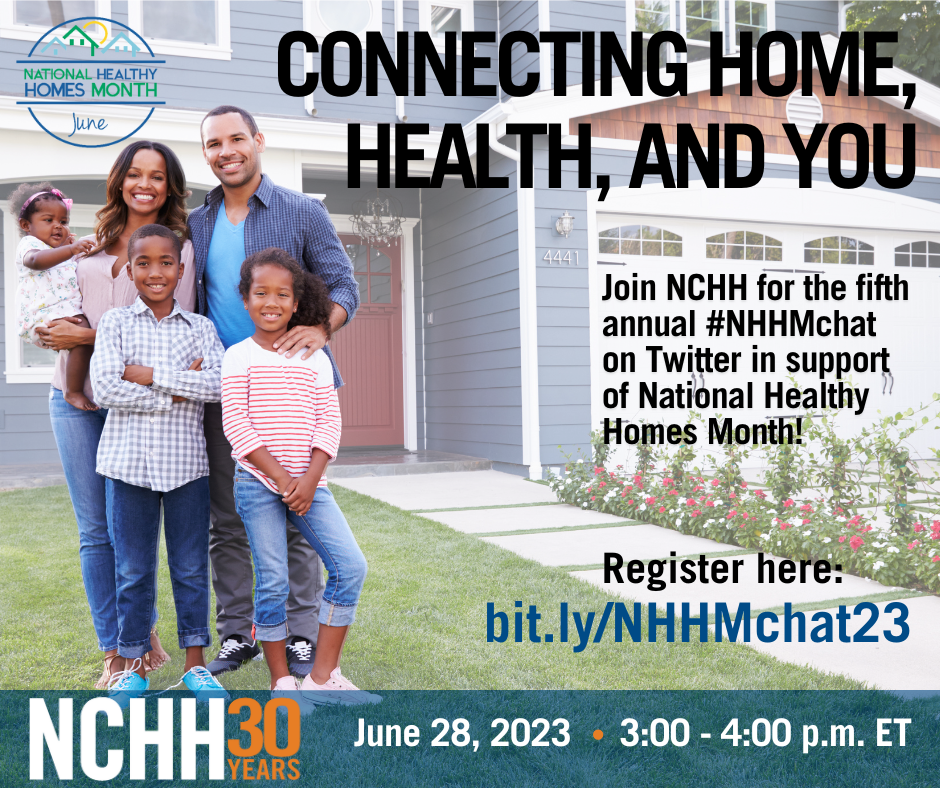 The National Center for Healthy Housing, a longtime HUD partner, is helping to promote National Healthy Homes Month by amplifying HUD's tools and messaging throughout June as well as promoting other events from various healthy homes partners between June 1 and 30. A list of these events will soon be available here, with more added throughout the month. Organizers seeking to have NCHH promote their events should contact Christopher Bloom, NCHH's communications and marketing manager, at cbloom@nchh.org.
In addition, NCHH's popular #NHHMchat returns to Twitter for the fifth year on June 28 from 3:00 to 4:00 p.m. ET. Please register for the #NHHMchat here.
For more information on National Healthy Homes Month 2023, visit HUD OLHCHH's website or NCHH's dedicated page.
###
The National Center for Healthy Housing (NCHH) is a leading national nonprofit dedicated to transforming lives by transforming housing. Since 1992, NCHH has served as a highly regarded and credible change agent, successfully integrating healthy housing advocacy, research, and capacity building under one roof to reduce health disparities nationwide. Follow NCHH on Twitter (@NCHH), Instagram (@nchhorg), or LinkedIn, become a fan on Facebook, or subscribe to NCHH's YouTube channel.