NCHH30 Throwback Thursday
Week 1: June 2, 2022
by Christopher Bloom
NCHH turns THIRTY this year, so we're celebrating with a new "Throwback Thursday" photo each week.
There's no better throwback photo to start with than that of Nick Farr, the man who helped to found the National Center for Healthy Housing back in September of 1992 (as the National Center for Lead-Safe Housing) and who led our fledgling organization to greatness in his decade as its first executive director. NCHH's Chief Scientist, Dr. David Jacobs, first joined NCHH in 1992, when Nick Farr recruited him to be our first Deputy Director. He eulogized Nick on our website after Farr passed away on May 27, 2014:
"Nick embodied all the values and aspirations that make the Center so important in the life of the nation. He had an insistence on rigor, a demand to base what should be done to solve a problem on fact. He never stopped moving forward. He was a student of life, devouring every book and paper put in front of him. He had leading positions in government, finance, advocacy, academia, nonprofit housing, health, foreign policy, and so much more. He meddled in science and invited others like me to meddle in his own field of law, and out of all that meddling came products that truly mattered. He devoted much of his life to the poor, to making government serve them, and to an unwavering sense of justice. He meant so much to me, someone who took me in at a low point (the famous basement times), who demonstrated love, who valued nature (we did more than a few hikes and bike trips together), who treasured knowledge—he was a voracious reader (he read one of Sherry Dixon's statistics textbooks in a single night, although he admitted that he did not quite understand it all). He always said what he thought and spoke truth to power. He was the master of the nonoperational hearing aid, a weakness he turned to strength. He took chances and learned from failure. He was a husband, father, grandfather, great-grandfather, and most of all a friend who will be missed but never forgotten. A life well lived and to be celebrated."
We snapped this photo of Nick at his retirement party in 2002.
See You Next Week
We hope that you've enjoyed this throwback in honor of our 30th anniversary. Remember that we'll post a new throwback every Thursday morning at 9:04 a.m. on Facebook, Instagram, LinkedIn, and Twitter through May 25, 2023. If you've missed a previous post, you can always reminisce with us via our NCHH30 gallery.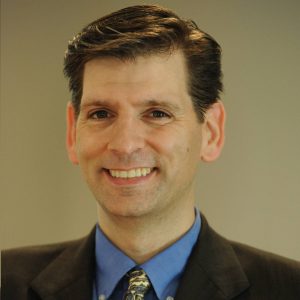 Christopher Bloom is NCHH's communications and marketing manager. He joined NCHH in 2008 after nearly a decade in the real estate industry. In a previous role at NCHH, he coordinated a national Renovation, Repair, and Painting (RRP) training program, one of the most successful in the nation. He holds a Bachelor of Arts degree in English Textual Studies from Syracuse University.