NCHH30: Throwback Thursday
Have you heard that NCHH is approaching a major milestone? That's right, we'll celebrate 30 years of "Better housing, better health" on September 4, 2022! As we look back fondly at three decades of service, we wanted to share photos of current and former staff who've made us what we are today, plus friends, family, allies, and other odds and ends. Look for a new throwback photo every Thursday.
Gallery 1
This gallery collects our Throwback Thursday photos for Week 1 through Week 13.
Week 1: June 2, 2022
There's no better throwback photo to start with than that of Nick Farr, the man who helped to found the National Center for Healthy Housing back in September of 1992 (as the National Center for Lead-Safe Housing) and who led our fledgling organization to greatness in his decade as its first executive director. NCHH's Chief Scientist, Dr. David Jacobs, first joined NCHH in 1992, when Nick Farr recruited him to be our first Deputy Director. He eulogized Nick on our website after Farr passed away on May 27, 2014:
"Nick embodied all the values and aspirations that make the Center so important in the life of the nation. He had an insistence on rigor, a demand to base what should be done to solve a problem on fact. He never stopped moving forward. He was a student of life, devouring every book and paper put in front of him. He had leading positions in government, finance, advocacy, academia, nonprofit housing, health, foreign policy, and so much more. He meddled in science and invited others like me to meddle in his own field of law, and out of all that meddling came products that truly mattered. He devoted much of his life to the poor, to making government serve them, and to an unwavering sense of justice. He meant so much to me, someone who took me in at a low point (the famous basement times), who demonstrated love, who valued nature (we did more than a few hikes and bike trips together), who treasured knowledge—he was a voracious reader (he read one of Sherry Dixon's statistics textbooks in a single night, although he admitted that he did not quite understand it all). He always said what he thought and spoke truth to power. He was the master of the nonoperational hearing aid, a weakness he turned to strength. He took chances and learned from failure. He was a husband, father, grandfather, great-grandfather, and most of all a friend who will be missed but never forgotten. A life well lived and to be celebrated."
We snapped this photo of Nick at his retirement party in 2002.
Week 2: June 9, 2022
Our longtime friend Ruth Lindberg's birthday was yesterday (HBD, Ruth!), so we thought WHY NOT share this photo of Ruth fielding a question during a health impact assessment (HIA) presentation in Hanover, Maryland, on August 6, 2013?
We first met Ruth when she worked for the Rhode Island Department of Health; she soon interned for us, and we were so impressed that we hired her to be a program manager! Ruth now works for the Pew Charitable Trusts, where she directs the Health Impact Project. Ruth's impact on NCHH cannot be overstated: In addition to her superior work, she was also instrumental in bringing Amanda Reddy from the New York State Department of Health to the NCHH family. (Amanda is now NCHH's executive director, so it's kind of a big deal.)
As for the HIA project, you'll note from the photo that it was to be a intermodal facility for the railroad line. Our team warned of the possible future negative health impacts—which were significant—and the project was relocated to a more appropriate site. You can find additional detail on that project here: https://nchh.org/tools-and-data/technical-assistance/baltimore-washington-rail-intermodal-facility-health-impact-assessment/
Week 3: June 16, 2022
Amy Murphy has worked as part of our team since 2008, where she provides training and technical assistance, drawing from over 30 years of experience in the fields of lead poisoning prevention and healthy homes. Amy's also highly skilled meeting facilitator—meaning that particpants often report how much they enjoy the sessions she runs. We're extremely fortunate to have Amy in the NCHH family!
In this photo from June 12, 2019, Amy is shown talking with Megan Hughes, sanitarian for the New York State Department of Health, and lead poisoning prevention stakeholders from Onondaga County and the City of Syracuse during one of NCHH's biannual site visits for the New York State Childhood Lead Poisoning Primary Prevention Program (CLPPP+).
New York State's program supports enhanced primary prevention efforts at the 20 local health departments whose counties account for approximately 90% of children under the age of six with newly identified blood lead levels of 5 µg/dL and above. NCHH provides ongoing technical assistance and evaluation support to the NYSDOH and the CLPPP+ grantees.
Learn more about NCHH's work with the NYS CLPPP+ here: https://nchh.org/tools-and-data/technical-assistance/nys-clpppp/
Week 4: June 23, 2022
Today's throwback image was snapped at David Jacobs' commitment ceremony on June 18, 2016. All Our executive director, Amanda Reddy, is in the middle, and she's all smiles because not only did she work with Dr. Jacobs, she'd also known Dave's (now-) partner for many years!
Flanking Amanda are Linda Kite from the Healthy Homes Collaborative, a respected organizational partner and friend of ours from the Los Angeles area. If you're ever in L.A., ask Linda to be your tour guide.
And we're sure you'll recognize Don Ryan on the right (Amanda's left). For those not already familiar with Don Ryan, we can tell you that he's been an ally to NCHH since day one: As the director of the Alliance to End Childhood Lead Poisoning (later Alliance for Healthy Homes), Don literally helped to found our organization in 1992, then served as an NCHH board member from its first meeting until 2015. These days, you can find Don working for Rebuilding Together Arlington-Fairfax-Falls Church as its director of partnerships (stay tuned for throwback photos from an NCHH/RT-AFF event later in this campaign).
We look forward to working with Linda and Don again, hopefully in the near future.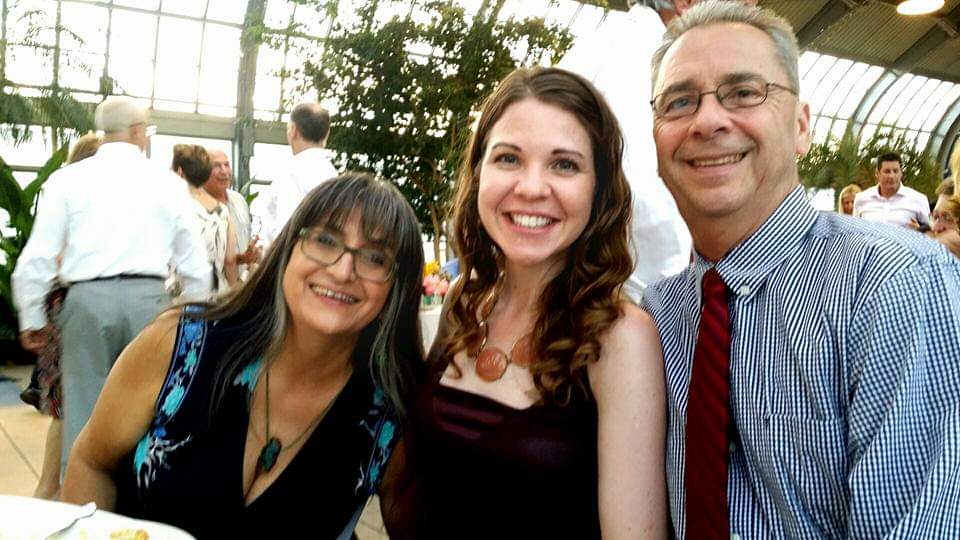 Week 5: June 30, 2022
Our team works hard, but it also plays hard. NCHH boasts some ardent concertgoers among its ranks, so when we learned that the legendary Paul Simon would be playing our beautiful Merriweather Post Pavilion (just five minutes from NCHH headquarters in Columbia, Maryland), we dropped everything and bought tickets for this June 9, 2017, show! Mr. Simon played a fantastic set, of course; and special guest Sarah McLachlan was no slouch, either.
From left to right are Pat Breysse (Director of the National Center for Environmental Health/ATSDR at CDC), Jill Breysse (NCHH Project Manager), Amanda Reddy (NCHH Executive Director), and Christopher Bloom (NCHH Communications Manager).
Week 6: July 7, 2022
Coming soon!
Week 7: July 14, 2022
Coming soon!
Week 8: July 21, 2022
Coming soon!
Week 9: July 28, 2022
Coming soon!
Week 10: August 4, 2022
Coming soon!
Week 11: August 11, 2022
Coming soon!
Week 12: August 18, 2022
Coming soon!
Week 13: August 25, 2022
Coming soon!
On to photos 14 through 26. AVAILABLE IN SEPTEMBER.