NCHH30 Throwback Thursday
Week 28: December 8, 2022
by Christopher Bloom
NCHH turned THIRTY this year, so we're celebrating with a new "Throwback Thursday" photo each week.
Our last two throwback photos have featured members of NCHH's board, and this week does the same. We didn't plan to do this—that's just how it worked out. But why not share photos of NCHH's board when so many of our directors have given so much of themselves to support our work?
And it doesn't hurt that these guys were kind enough to send us this photo specifically for our Throwback Thursday series.
Read Holman and Chris Jones are incredible guys, and we've been so fortunate to have them in our inner circle for the last several years. Dr. Christopher Jones, formerly NCHH's board president, is an immensely intelligent, thoughtful, and talented person who holds advanced degrees in both nuclear engineering and urban planning. When we first met Chris (circa 2013), he was the executive director for the Dudley Street Neighborhood Initiative in Roxbury, Massachusetts; but he eventually worked his way back to his home state of Arkansas, where he served as executive director and lead maker at the Arkansas Regional Innovation Hub. Most recently, he jumped head first into the political arena by running for the office of governor. Chris' time on our board is winding down, but we predict that he and NCHH will work together again very soon.
Read's NCHH story is unusual. It's normal for organizations to seek out great people for their boards, but we met Read over the phone one day when he was looking for an organization to partner with on some healthy homes initiatives he was working on—initiatives, plural. It happened that Read was a former White House policy advisor, giving him an insider's understanding the executive branch of our government. While working in DC, he became interested in healthy homes work; and he decided, after his White House gig ended, to apply his talents to those challenges, which led him to us. We took Read's message and set up a call, but we were already so impressed by him that we asked him, almost immediately, to consider joining our board. As they say, "Sometimes, you just know," and they are right: We knew.
Read and Chris are two of our favorite people, and working with them has been an absolute gift. We can't thank them enough for their service.
We'll confess that we don't know exactly when this get-together between Read and Chris took place—they guessed it was "on or around December 8, 2021," and this resulted in a bit of sleuthing for…well, no good reason, really. Anyway, we were able to figure out that the Golden State Warriors and the Portland Trail Blazers were the two teams playing on the TV behind Chris, and the crawl on the TV references "Wednesday's win vs. Trail Blazers" giving the impression that Wednesday, (December 8) was in the past. If our logic is correct, then this photo was taken either December 9 or 10 (as Golden State's next game is also referenced on the crawl, as a future event), with December 9 being most probable. We're going with Thursday, December 9. We're not sure about the location, though—check back for an update sometime between tomorrow and our 35th anniversary.
See You Next Week
We hope that you've enjoyed this throwback in honor of our 30th anniversary. Remember that we'll post a new throwback every Thursday morning at 9:04 a.m. on Facebook, Instagram, LinkedIn, and Twitter through May 25, 2023. If you've missed a previous post, you can always reminisce with us via our NCHH30 gallery.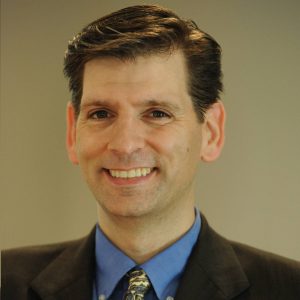 Christopher Bloom is NCHH's communications and marketing manager. He joined NCHH in 2008 after nearly a decade in the real estate industry. In a previous role at NCHH, he coordinated a national Renovation, Repair, and Painting (RRP) training program, one of the most successful in the nation. He holds a Bachelor of Arts degree in English Textual Studies from Syracuse University.