NCHH30 Throwback Thursday
Week 38: February 16, 2023
by Christopher Bloom
NCHH turned THIRTY this year, so we're celebrating with a new "Throwback Thursday" photo each week.
This week, we're throwing back to just a few years ago, when Jill Breysse met Dr. Mona Hanna-Attisha at a Public Health Grand Rounds session at CDC headquarters in Atlanta, Georgia.
The name may or may not be familiar to you; and that's okay: Mona Hanna-Attisha is not exactly a household name—unless you were following the Flint water crisis several years ago.
Dr. Hanna-Attisha, a pediatrician at the Hurley Medical Center in Flint, learned from a longtime friend who happened to be an engineer and certified water operator that there was a heightened possibility of lead in the city's water due to a recent decision to change the source from Lake Huron to the Flint River. Dr. Hanna-Attisha soon learned that the city wasn't currently using corrosion inhibitors, so the water from the Flint River was corroding local water pipes (which contained lead) and allowing lead to leach into the water. Based on this startling information, Dr. Hanna-Attisha began a study that ultimately determined that the percentage of children in Flint with over 5 micrograms of lead per deciliter of blood skyrocketed from 2.1% to 4% since the switch from Lake Huron. Dr. Hanna-Attisha's findings were questioned publicly by a spokesperson from Michigan's Department of Environmental Quality; a subsequent report by the Detroit Free Press supported her findings, and the State of Michigan were forced to acknowledge that Flint's water was not safe to drink.
While we in the public health world were aware of potential exposures from leaded water pipes, the disaster that Dr. Hanna-Attisha worked to expose helped to create the political will necessary to address the issue of lead in water at last. It's taken years to get to this point, but as of mid-July 2022, the city reports that it has inspected 27,133 service lines in Flint, replacing 10,059 lead and galvanized lines in the process. It's unfortunate, however, that so many Flint residents had to suffer the permanent and potentially life-altering effects of a months-long lead exposure in order to draw attention to the problem. It's not really a fair trade, is it?
The latest development in this story comes from the top: Just over two weeks ago, the White House announced the Biden-Harris Get the Lead Out Partnership, which is committed to "supporting and accelerating the replacement of lead service lines across the country." (Obviously, old water service lines aren't the only source of lead contamination, but we say real commitment to action on any front is progress and should be applauded.)
So, it's not surprising that Jill Breysse—who knows quite a bit about lead poisoning herself—would be interested in talking with a bona fide public health hero like Dr. Mona Hanna-Attisha, and on Friday, February 12, 2019, Jill attended A Renewed Commitment to Prevent Childhood Lead Exposure in the Post-Flint Era. Dr. Hanna-Attisha was the principal speaker at the event (which you can watch here; she's introduced at the 13:20 mark), and Jill was able to catch up with her at the reception that followed for a quick chat, an autographed copy of What the Eyes Don't See, and the great photo that we're sharing with you today.
Thanks to both Jill and Mona for the great work they do to support public health.
See You Next Week
We hope that you've enjoyed this throwback in honor of our 30th anniversary. Remember that we'll post a new throwback every Thursday morning at 9:04 a.m. on Facebook, Instagram, LinkedIn, and Twitter through May 25, 2023. If you've missed a previous post, you can always reminisce with us via our NCHH30 gallery.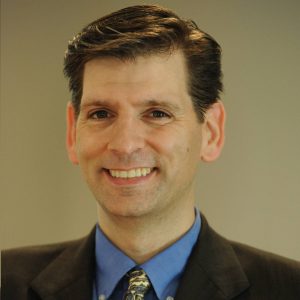 Christopher Bloom is NCHH's communications and marketing manager. He joined NCHH in 2008 after nearly a decade in the real estate industry. In a previous role at NCHH, he coordinated a national Renovation, Repair, and Painting (RRP) training program, one of the most successful in the nation. He holds a Bachelor of Arts degree in English Textual Studies from Syracuse University.